Extreme Weather: South Could See Tornadoes Followed By Freezing Temperatures
Parts of the southeast United States this week are bracing for the possibility of heavy rains, flash floods and tornadoes followed by a freeze.
The rain and flooding threat stretch from the Tennessee Valley through Kentucky. That includes Nashville's metro area, which was heavily impacted by the weekend's flooding.
The Gulf Coast and Carolinas will face strong winds and the highest threat of tornadoes. These problems are compounded with a freeze anticipated overnight, possible dumping snow across Appalachia and New England.
Alabama and Georgia are still taking stock after last week's fatal tornadoes, which killed six and ravaged dozens of homes and businesses.
Newnan, Georgia, suffered an EF-4 tornado overnight, giving residents only minutes of warning before impact. At least one person was killed.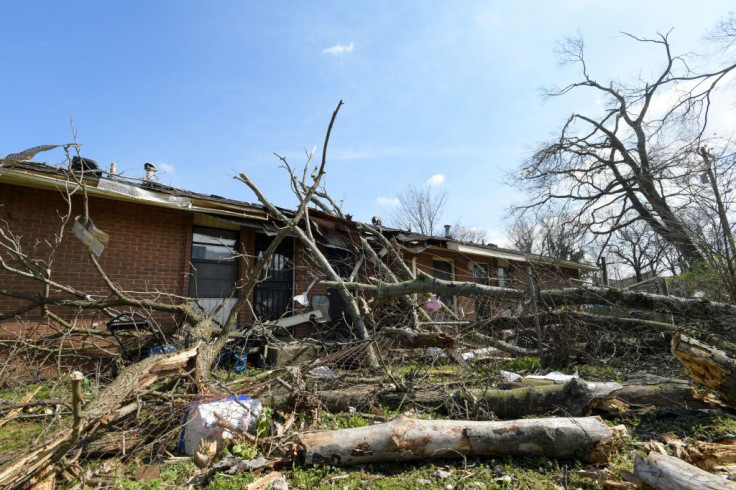 These trends track with warnings from meteorologists going into tornado season. Experts said that changing climate conditions have driven tornado threat zones into the South, where terrain and building make them exceptionally dangerous.
Southern states have been hit again and again, with tornado bursts exactly was described by the prediction: groups of tornadoes, coming at night, obscured by weather and terrain and hitting communities unprepared for the threat.
"The storms killed at least one person in the county," Newnan's Fire Chief Deron Patrick Wilson said. "This stuff is unbelievable. I kind of think about this kind of stuff when you look out in the Midwest, Oklahoma. I think you're going to see that same kind of damage here."
© Copyright IBTimes 2023. All rights reserved.