Extreme Weather: Winter Storm Orlena Hits Chicago, Moves Towards New York City
The Midwest and the Northeast areas of the United States are expected to be hit by a blanket of snow as winter storm Orlena sweeps across the country after hitting parts of California last week. The brutal conditions are expected to arrive Sunday on the East Coast in the form of a nor'easter.
The National Weather Service reported that parts of the greater Chicago area saw between 6 and 10 inches of snow overnight and into Sunday morning.
Snow is expected to continue falling through Sunday in the southern Great Lakes and pick up in the mid-Atlantic. It is expected to slow down once it hits the upper Midwest.
The snow fell early Sunday in Washington, D.C., and is making its way north.
The New York City tri-state area is expected to see snow starting Sunday night. Parts of New England may not be affected by the storm conditions due to the dry air in the area.
The peak of the storm is expected to hit Monday. The areas that will experience the heaviest snowfall will depend on the track of the low pressure formed in the Northeast.
Strong winds could mean parts of New York's metro area could face near-blizzard conditions. Forecasts call for 6-to-12 inches of snow in the Northeast.
The National Weather Service issued a Winter Storm Warning for a majority of the tri-state area for late Sunday night through Monday night.
Snowfall will begin Sunday around 6 or 7 p.m. ET and accumulate one to three inches overnight. Winds of 40 to 50 mph are expected Monday along with the snowfall, causing low visibility and slippery road conditions.
"I am urging all New Yorkers to ... begin preparing their households for this latest round of winter weather," said New York Gov. Andrew Cuomo.
The storm is expected to taper off by Tuesday.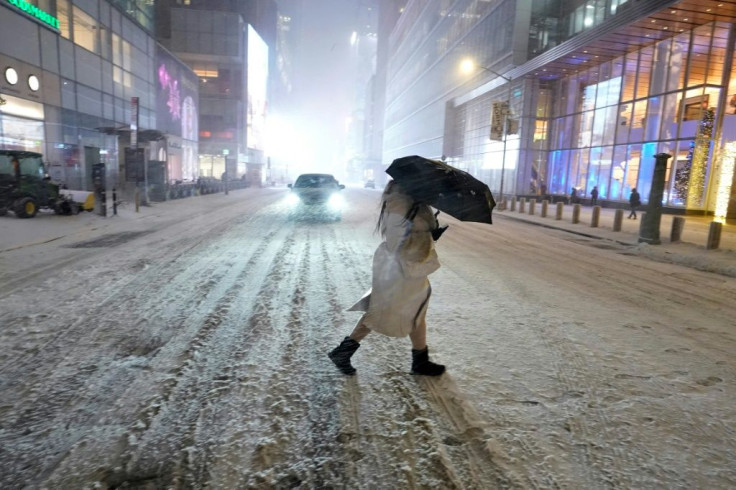 © Copyright IBTimes 2023. All rights reserved.