Exxon Urges Trump To Make 'Prudent' Decision About Paris Climate Agreement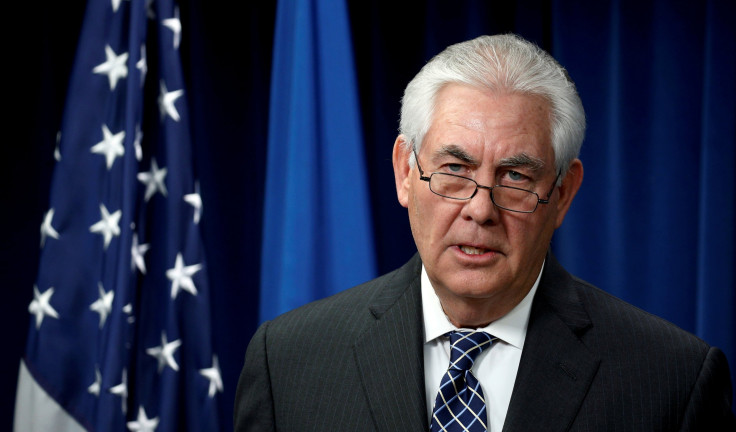 ExxonMobil Corp., whose former CEO Rex Tillerson became President Donald Trump's secretary of state in February, advised the administration to remain a signatory of the 2015 Paris Climate Agreement, which the U.S. signed along with dozens of other nations in April 2016.
"It is prudent that the United States remain a party to the Paris agreement to ensure a level playing field, so that global energy markets remain as free and competitive as possible," Exxon Corporate Manager for Environmental Policy and Planning Peter Trelenberg wrote, according to the Financial Times, which first reported on the letter. Trelenberg called the agreement, which sought to keep the rise in global temperature due to climate below 2 degrees Celsius and had 141 signatories as of Wednesday, "an effective framework for addressing the risks of climate change."
Read: Exxon Mobil To Benefit From Elimination Of Environmental And Financial Regulations By Congress
The letter, addressed to Special Assistant to the President for International Energy and the Environment George David Banks, reassured the administration that the U.S. oil and gas sector would easily remain competitive on the world stage under the agreement's implementation, as a result of the country's large reserves and "innovative private industries, including the oil, gas and petrochemical sectors," according to the Financial Times.
When the agreement went into force on Nov. 4, the Irving, Texas-based firm—which was among the country's highest methane emitters in 2014, the left-leaning Center for American Progress found—endorsed it, reporting investment of nearly $7 billion in "lower-emissions initiatives" related to energy efficiency and research since 2000, according to a press release. The company also promised to dedicate attention to an environmentally destructive practice known as "flaring," but the House voted to overturn a rule from the administration of former President Barack Obama limiting the burning off of natural gas by oil drillers in February.
Read: Teens Suing U.S Government Over Climate Change Want Rex Tillerson's Exxon Emails Revealed
While Trump is widely known for propagating his theory that climate change was "created by and for the Chinese in order to make U.S. manufacturing non-competitive" and pledging to "cancel" the landmark Paris agreement—or, more feasibly, the U.S. government's commitment to it—Exxon has recently come under fire for allegedly distorting the realities of climate change, as well.
As part of an investigation into whether Exxon hid its knowledge of the consequences of climate change from its investors and the public, attorneys general in New York and Massachusetts demanded that the company compile emails to and from Tillerson under an alias he used when corresponding with other executives at the company. Exxon reportedly couldn't find a year's worth of those emails, in which Tillerson, using the pseudonym "Wayne Tracker," touched on the risks of climate change.
© Copyright IBTimes 2023. All rights reserved.