Is Rex Tillerson A Good Secretary Of State? Former Exxon Mobil CEO Says He Didn't Want Job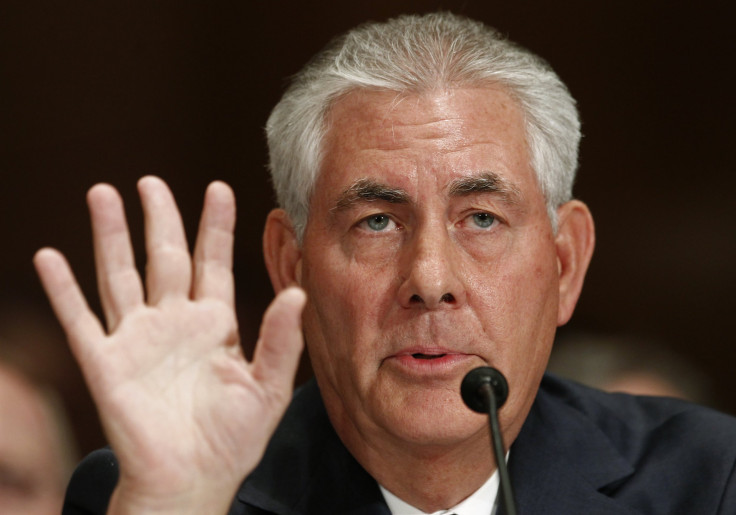 Rex Tillerson did not want the job of secretary of state and was convinced to take up the mantle on the insistence of his wife, he said, according to an interview published in an Independent Journal Review (IJR), the only media outlet that was given access to Tillerson during his recent Asia trip.
"When he asked me at the end of that conversation to be secretary of State, I was stunned;" Tillerson explained that he had never met President Trump before the election.
"I didn't want this job. I didn't seek this job," Tillerson said in an IJR interview conducted on his official plane during the three-nation Asia trip. When asked why he had accepted the job, he replied saying that his wife (Renda St. Clair) "told me I'm supposed to do this."
Read: Rex Tillerson ExxonMobil Retirement Deal Worth $180 Million
When Tillerson told Clair about the job offer, she replied saying "I told you God's not through with you."
The former ExxonMobil CEO added: "I was supposed to retire in March, this month. I was going to go to the ranch to be with my grandkids."
Since his confirmation as secretary of state in February, Tillerson has faced criticism for not interacting with the media and for not being involved in critical policy issues such as the Trump travel ban. With the exception of one journalist from IJR, he also broke the tradition by leaving behind the White House press corps during his recent Asia tour, according to Politico.
Tillerson has also faced flak for opting to attend meetings between Trump and Chinese President Xi Jinping in Florida, rather than attending a April 5-6 gathering of NATO foreign ministers in Brussels.
Tillerson's background and his retirement deal with his former company ExxonMobil, through which he was to receive more than $180 million, also raised important ethical questions, according to a professor of governance at the University of Delaware.
Although according to a regulatory filing with the Securities and Exchange Commission (SEC), by stepping down as CEO of ExxonMobil rather than retiring in March as previously planned, Tillerson had agreed to take a loss of $7 million, Charles Elson argued that the company proposed to grant millions of dollars to Tillerson, just as he is was on the cusp of taking a position that can affect the company's business results.
"Exxon is trying to make the best of a tough situation. …It would be unfair to take it all away, but vesting his shares would create a lot of problems. They're trying to give him value for what he accomplished and also protect the company. There's no easy solution to this," Elson was quoted saying to Wall Street Journal.
© Copyright IBTimes 2023. All rights reserved.