'Eyewitness' Star James Paxton Talks Filming Philip, Lukas Motel Scene With Tyler Young In Season 1 Finale [VIDEO]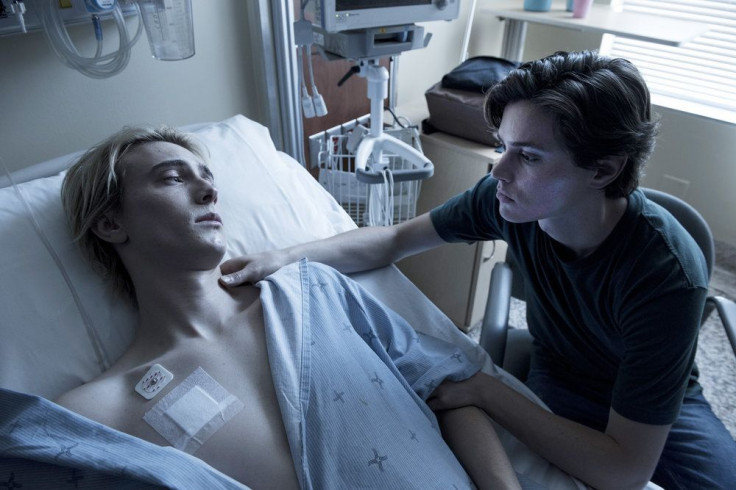 The intimate motel scene involving Philip (Tyler Young) and Lukas (James Paxton) in the Season 1 finale of "Eyewitness" was one of Paxton's favorite moments from the episode.
During an Instagram Live Q&A with fans after the airing of the episode, Paxton revealed that his favorite scene from the episode that he was a part of was "definitely" his bed scene with Young. "That was an all-day thing just in very tight quarters in this small little motel room," Paxton said when asked what it was like to film the motel scene. "Only a small number of crew could fit in there. It was so hot [because] we had to turn off the air conditioner for sounds. They'd bring a giant … remember those giant tubes that they would cart everywhere to blow air … they moved one in and out like between takes, but Tyler and I were just in there all day. It was intense. We got chocolate shakes from Dairy Queen after that. After those shirtless moments, we loaded it up."
Paxton also shared what he thinks made the bed scene more special. "My character, his mobility is restricted a lot. He's still so weak. And so it was nicer to show that they were more caring about each other than the actual sex," the young actor said. "Of course it culminated to that, but Tyler going 'It's okay. Lie down. I could take care of you,' that's what made it more romantic and I think more beautiful scene."
Paxton revealed other interesting behind-the-scenes details about the motel scene on Twitter. Read his tweets below:
As to why the series didn't deliberately show Philip and Lukas "make love" in the finale, associate producer Jennifer Coté told TV Goodness: "[Executive producer] Adi [Hasak] has always been a fan of cutting away from exposition or the traditional scene that you think you're going to see. … With certain things, the most delicious thing you can do [is set the scene in motion]. You don't need to show the whole sex scene. Even though that's not the purpose of a TV show or a movie, it works like a novel. It lets you imagine it."
USA Network has yet to renew "Eyewitness" for a second season.
© Copyright IBTimes 2023. All rights reserved.