Farrah Abraham Accuses Mom Of Having Asperger's, Dr. Drew Says Maybe It's 'Schizoaffective Spectrum'
"Teen Mom OG" star Farrah Abraham has famously had a tumultuous relationship with mother Debra Danielson and the MTV reality star mused it's because there is something biologically wrong with Danielson's brain chemistry. During a "This Life Podcast" with Dr. Drew Pinksy and Bob Forrest Monday, Abraham claimed her mother might have Asperger's syndrome.
While Dr. Drew wasn't ready to label Danielson as being on the autism spectrum, he acknowledged there was something seemingly wrong. "I'm going to say something now that is a boundary issue and we can pull it out of this show if you want," he said to the "Teen Mom OG" Star. "I was just looking at your mom and have gotten to know her over the years too and I'm just worried there's something psychiatrically going on there that's not being properly managed. Am I on to something?"
READ: Amber Portwood Responds To Matt Baier Sex Tape Reactions From 'Teen Mom OG' Fans And Farrah Abraham
Abraham and Danielson struggled to get along for years, with Danielson being charged with assault in 2010 after she allegedly choked her daughter and her on the side of the head and in the mouth.
"I'm thinking there's something really there that you've been pounding against your whole life and your mom isn't aware it's there and it's of a psychiatric nature," he said. "Not psychological but more like biological and you're wanting something from her that she just can't do because of this biology. Am I on to something here?"
Dr. Drew said it was possible that Danielson suffered from being on the schizoaffective spectrum. People who have it can suffer from symptoms of mood disorder or schizophrenia.
In an exclusive statement to the blog The Ashley, Danielson denied the claim. For backup, Danielson noted she was treated by the doctors on WEtv's "Marriage Boot Camp: Family Edition," and they said there wasn't anything wrong with her.
"I have been totally mentally, physically and emotionally healthy," Debra said. "Both Dr. Ish Major and Dr. Venus Nicollini confirmed that on WEtv's 'Marriage Boot Camp: Family Edition.'"
Danielson indirectly took a hit at Dr. Drew and her daughter. "Generally, healthcare professionals, in particular, neurologists and psychiatrists are best suited to establish if an individual has Asperger's syndrome and schizoaffective disorder," she told The Ashley Tuesday.
In other news, Abraham slammed rumors that she was pregnant. "No. I am not. I hope I don't look pregnant!" she told E! Online Monday.
She dated ex-boyfriend Simon Saran on-and-off for years, but now she's looking for someone new. "I am not engaged that's why I am single. Maybe I'll meet a new guy here?" she told the publication at Beatique Restaurant & Lounge located in Midtown Manhattan.
READ: Kailyn Lowry, Farrah Abraham's Boyfriend Simon Saran Slam Each Other In Nasty Twitter Feud
For now, she and Saran are just friends. "Simon and I are cordial. We are friends — or trying to be. If it doesn't work out to be friends in the future I am happy I tried to be friends with an ex," she said.
When it comes to her "TMOG" cast mates, she could care less. "They are irrelevant and nonexistent," she said.
"Teen Mom OG" airs on MTV Mondays at 9 p.m. EDT.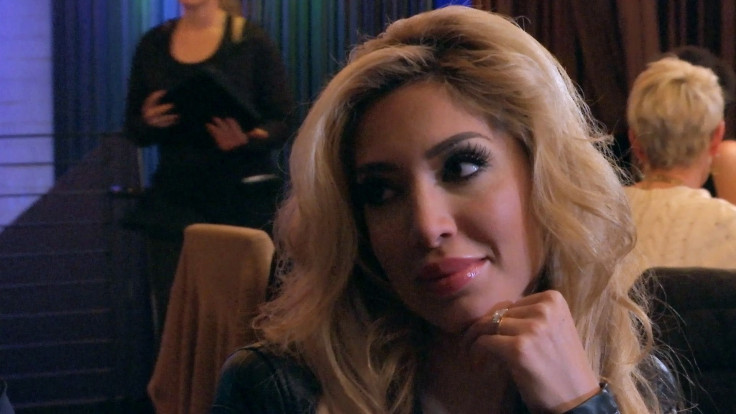 Follow me on Twitter @mariamzzarella
© Copyright IBTimes 2023. All rights reserved.