Fauci Called Out By Anti-Vaxxers For Having Pictures Of Himself In His Office
The home office of infectious disease expert Dr. Anthony Fauci has drawn attention from anti-vaxxers on social media. The perceived vanity of Fauci, who is seen seated at his desk with pictures of himself in the office, appeared to alarm some users.
On Wednesday, the Twitter account of Karl Dierenbach posted a photoshopped picture of the White House medical advisor sitting at his desk. The New York Post noted that the image appeared to show Fauci staring at a picture of himself on his computer screen when he was actually writing an email.
Dierenbach's Twitter account is not verified. A Linkedin profile for Karl Dierenbach says he is a freelance writer and a volunteer policy analyst for 2018 Republican gubernatorial candidate Walker Stapleton. Dierenbach's pinned tweet reads: "Masks keep schools open like mafia fire insurance keeps your restaurant from burning down."
The social media user highlighted the self-portraits in a still-image that was taken from the documentary "Fauci," which was released on Sept. 10, 2021.
The image from the documentary, which aired on National Geographic, shows Fauci, who is 81, sitting at his computer in his office, where a giant image of himself stares back. Behind him, more photos of himself are placed.
The images of Fauci in his office were authentically placed, according to the documentary.
Many Americans who oppose vaccines and COVID-19 guidelines have directed their ire at Fauci. He has been the subject of a hashtag on Twitter, #FireFauci.
The recent Twitter post drew plenty of reactions.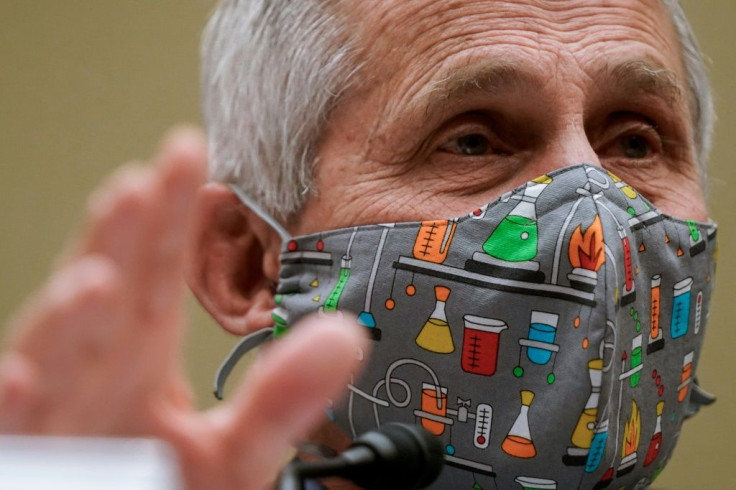 © Copyright IBTimes 2023. All rights reserved.
FOLLOW MORE IBT NEWS ON THE BELOW CHANNELS