Fauci Says Children Don't Have To Be Scared To 'Enjoy Halloween'
While Halloween may be the spookiest time of the year, the nation's leading infectious disease expert doesn't believe that children have a reason to be scared to celebrate the holiday this year.
Dr. Anthony Fauci told CNN's "State of the Union" on Sunday that "particularly if you're vaccinated, you can get out there ... and enjoy it," referring to the Halloween season.
Especially as many of the activities of Halloween are celebrated outdoors, Fauci told the news outlet, "This is a time that children love. It's a very important part of the year for children."
However, while Fauci said that families should enjoy the upcoming other holidays, he stressed the need to be vaccinated to "add an extra degree of protection to yourself and your children and your family and your community."
According to the Centers for Disease Control and Prevention, 65.3% of the U.S. population has received at least one dose of the COVID-19 vaccine. A total of 56.4% of the U.S. population is fully vaccinated against COVID.
But there is still no vaccine for children under the age of 12. Pfizer has submitted a COVID vaccine to the Food and Drug Administration for children aged 5 to 11, which is expected to receive authorization this month. Vaccine data for children under the age of 5 is expected to arrive by the end of the year, the Washington Post reported.
Pfizer's vaccine is approved for individuals aged 12 and older, while Moderna's and Johnson & Johnson's shots are authorized for people aged 18 and older.
As of Oct. 7, over 6 million children have tested positive for the virus, according to the latest report from the American Academy of Pediatrics and the Children's Hospital Association. As of last week, the CDC reported that 181 children up to age 4 and 406 children aged 5 to 18 years have died from the virus.
CDC Director Dr. Rochelle Walensky agreed with Fauci's assessment of celebrating the Halloween season as she told CBS News' "Face the Nation" in September that children should trick-or-treat in small groups.
She told the outlet, "If you're able to be outdoors, absolutely. Limit crowds. I wouldn't necessarily go to a crowded — crowded Halloween party, but I think that we should be able to let our kids go trick-or-treating in small groups."
The guidance to allow kids to celebrate the Halloween holiday is a departure from 2020's recommendation by health officials, which deemed trick-or-treating a high-risk activity for spreading COVID.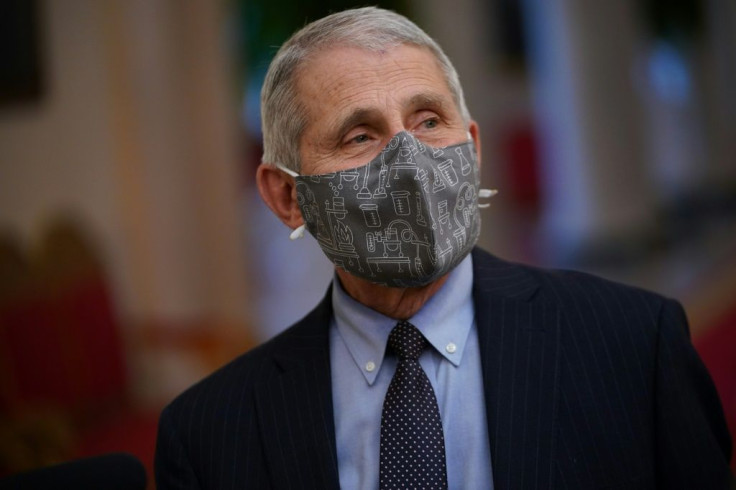 © Copyright IBTimes 2022. All rights reserved.
FOLLOW MORE IBT NEWS ON THE BELOW CHANNELS