Fauci Flip-Flops On Holiday Gatherings: Now Thinks They Are OK For Vaccinated Families
The nation's leading infectious disease expert has reversed his thoughts on whether or not he thinks it is safe for people to spend Christmas together this year, saying Monday his earlier comments on the topic were "misinterpreted."
On Sunday, Dr. Anthony Fauci told CBS' "Face the Nation" that it is "just too soon to tell" if people can gather for Christmas due to the COVID pandemic. Fauci said that instead, Americans needed to concentrate on "continuing to get those numbers down and not try to jump ahead by weeks or months and say what we're going to do at a particular time."
Now Fauci has clarified his comments by telling CNN, according to The Hill, that he encourages people to gather for Christmas, particularly if they are vaccinated.
"The best way to assure that we'll be in good shape as we get into the winter would be to get more and more people vaccinated," Fauci told the news outlet on Monday. "That was misinterpreted as my saying we can't spend Christmas with our families, which was absolutely not the case.
"I will be spending Christmas with my family, I encourage people, particularly the vaccinated people who are protected, to have a good, normal Christmas with your family," he added.
Fauci maintained that his comments were misconstrued, telling CNN that he was referring to the uncertainty of the pandemic in December, not whether family gatherings would be safe.
He said he was originally asked by "Face the Nation," "We're going into cold weather. We're going into the holidays. Do people need to start looking around and saying it's just too risky to gather with family members if there are unvaccinated children?"
Fauci told CNN in regards to that question there is still uncertainty about the pandemic moving forward, but as more of the population gets vaccinated, the trend in COVID cases keeps going down.
According to the Centers for Disease Control and Prevention, over 185 million Americans are fully vaccinated against COIVD-19, accounting for 56% of the U.S. population.
In 2020, Fauci urged Americans to stay home for holidays to prevent the spread of the virus.
He told USA Today last November, "For my own family, I'm saying we had a really great Thanksgiving and Christmas last year. We're looking forward to a really great Thanksgiving and Christmas in 2021. Let's now make the best of the situation and show our love and affection for people by keeping them safe."
Fauci's comments come on the heels of new recommendations by the CDC for celebrating the holidays, which encourages virtual and outdoor gatherings. For gatherings that must be indoors, the CDC suggested added ventilation such as opening doors and windows or using a fan.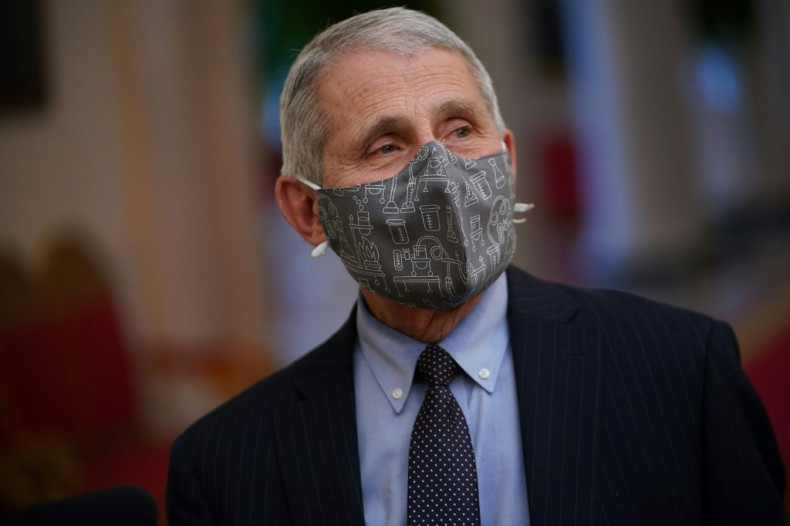 © Copyright IBTimes 2022. All rights reserved.