Fauci Wants Mandatory Vaccinations For Teachers: 'Yeah I'm Going To Upset Some People'
With the start of school just weeks away, the nation's top infectious disease expert, Dr. Anthony Fauci, has expressed his desire to see state and local mandates require all teachers to get vaccinated against COVID-19.
Fauci made the comment on Tuesday during an interview with MSNBC where he acknowledged that not everyone will agree with his stance on the COVID vaccine.
"Yeah I'm going to upset some people on this, but I think we should," he said. "This is very serious business. You would wish that people would see why it's so important to get vaccinated."
Fauci's belief in a mandate for teachers comes as COVID cases across the U.S. surge as the highly contagious Delta variant continues to spread among adults and kids.
According to the American Academy of Pediatrics, more than 93,800 child COVID cases were reported from July 29 to Aug. 5, comprising 15% of the weekly reported COVID cases in the U.S., as noted by CBS News. This is an increase of 4% since July 22 with a total of 4.3 million children testing positive for the virus as of Aug. 5.
Despite the increase in COVID cases among children, Fauci said that a COVID vaccine mandate for teachers will not come at a federal level but told MSNBC local mandates "for schools, for teachers, for universities, for colleges" would be appropriate.
"I'm sorry, I mean I know people must like to have their individual freedom and not be told to do something, but I think we're in such a serious situation now, that under certain circumstances, mandates should be done," he added.
The American Federation of Teachers – the second-largest teachers union in the U.S. – agrees with Fauci as President Randi Weingarten said on NBC News' "Meet the Press" on Sunday that COVID-19 vaccinations should be required for teachers to help protect students who cannot be vaccinated.
"The circumstances have changed," Weingarten said. "It weighs really heavily on me that kids under 12 can't get vaccinated. I felt the need...to stand up and say this as a matter of personal conscience."
Only children 12 and older are eligible for the COVID vaccine from Pfizer. The Moderna and Johnson & Johnson vaccines are authorized for use on people aged 18 and older.
However, if the Food and Drug Administration provides its full approval of the COVID vaccines, state officials could institute vaccination mandates without fear of legal repercussions, Fauci told MSNBC. Fauci has previously said that the Pfizer vaccine is expected to receive full approval from the FDA within the next few weeks.
While Fauci believes that a COVID vaccination mandate is necessary for teachers, many others aren't so sure.
Florida Gov. Ron DeSantis has challenged any coronavirus measure within the state despite experiencing a rising number of COVID cases. The governor has banned masks in the classroom and said he would withhold pay from local school officials that implement a mask mandate, violating his orders.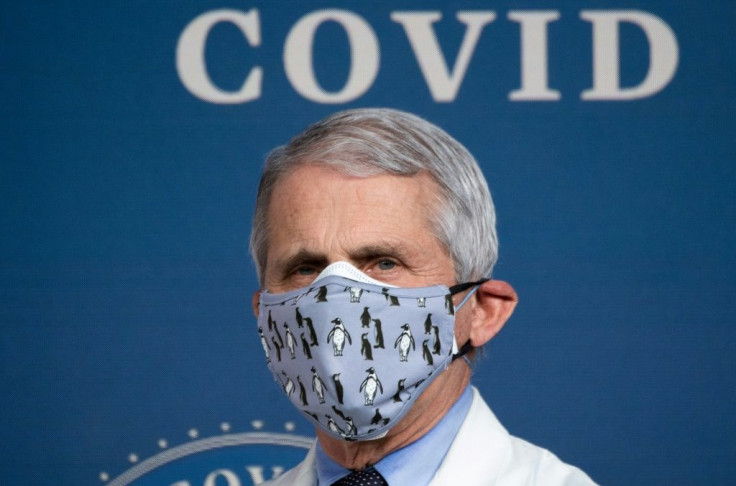 © Copyright IBTimes 2023. All rights reserved.