'Fear The Walking Dead' Sneak Peek: Alicia Makes A Difficult Choice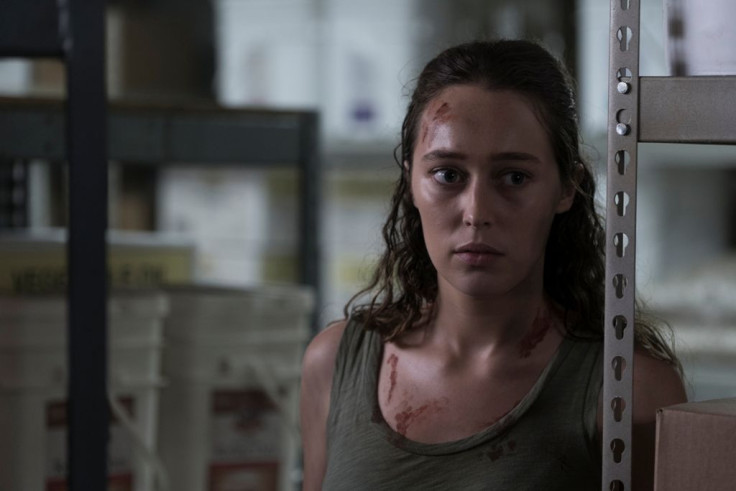 Alicia makes a tough decision in a new sneak peek from Season 3, episode 13 of AMC's "Fear the Walking Dead."
After Broke Jaw Ranch was overrun by a horde of infected at the end of last episode, Alicia (Alycia Debnam-Carey) and the remaining ranchers found safety in the community's pantry bunker. That safety, however, is only temporary, as the new sneak peek from the upcoming episode reveals that the bunker's ventilation system is broken and some survivors were actually bitten by the undead during the escape.
"I know you're scared. We're all scared," Alicia tells everyone in the sneak peek. "We don't know what's going to happen out there and we're less sure what's going to happen here but this is what we do know: The vent is broken. The only air way we have is blocked, which means if we can't fix it, we suffocate. Right now the enemy is not what's out there. It's actually time. The more of us there are, the less time we have. So we're asking for those of you who have been bitten to come forward."
While it's unclear whether anyone will actually sacrifice his life to let the others live, a previously released sneak peek from the episode shows Ofelia (Mercedes Mason) and Lee (Justin Rain) going through the vent to seemingly repair the problem.
It appears, however, that Ofelia and Lee fail to fix the issue. As seen in the trailer for episode, Lee finds himself stuck while passing through the ducts. And when he forcefully tries to take himself out from being jammed, a portion of the vent falls apart.
But there's still hope. Just outside the pantry bunker, Nick (Frank Dillane) tries to convince Troy (Daniel Sharman) to help him get rid of the zombie horde that had infiltrated the ranch. "If those people died it's because we failed," Nick tells Troy in the trailer.
Later in the clip, Nick is seen firing a grenade in an attempt to divert the direction of the horde. He and Troy then enter the ranch in a pickup truck and start running over zombies. The two, however, are eventually cornered by the undead and ended up inside the militia's helicopter. Will the pair try to operate the chopper and use it to eliminate the threat?
"Fear the Walking Dead" Season 3, episode 13, titled "This Land Is Your Land," airs on Sunday, Oct. 11 at 9 p.m. EDT on AMC.
© Copyright IBTimes 2023. All rights reserved.