'A Feeling Of Home' Hallmark Movie Premiere: Cast, Trailer, Air Date
Hallmark Channel's Countdown to Summer continues Saturday night with the premiere of "A Feeling of Home." Starring "Roswell, New Mexico" actor Nathan Parsons and "Baby Daddy" alum Jonna Walsh, the new flick marks the Hallmark debuts for both of its leads.
Aside from currently starring as Max Evans on The CW's new "Roswell," viewers will also recognize Parsons from his time on the network's "The Vampire Diaries" spinoff, "The Originals," where he played Jackson Kenner.
As for Walsh, she played Zoey in Season 5 of Freeform's "Baby Daddy" and could most recently be seen as Amanda on "The Fosters" and in the thriller "Only Mine."
In the new 2019 Hallmark movie, the two star as exes who get a second chance at a relationship with each other.
"Host of the web series 'New England, My Way,' Abby (Walsh) is the Martha Stewart for a new generation on the verge of launching a line of home products marketed across the northeast," the synopsis begins. "All she needs is a few more authentically New England webisodes and the deal is done. But the problem is Abby's roots are actually in Texas, and now she must return home to help her father Wes [Robby Benson)], who's been injured. Forever wanting her dad's approval, Abby arrives at his ranch to find his new manager is her old boyfriend Ryan (Parsons), handsome as ever."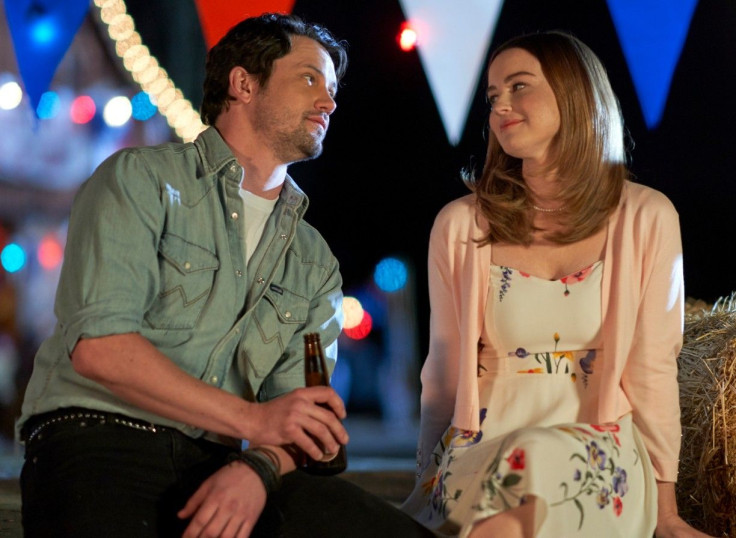 The synopsis continues: "Though Abby claims the spark between them is gone, there's no denying an ember still smolders. As they work together on chores Wes can't handle, and as they stage a New England-like webisode on Ryan's porch, their old chemistry flares. One night while barbecuing, Abby tells Ryan his special sauce is good enough to market so she sends it to her New England promoters."
Despite the boss loving the sauce, he only wants New England products, so it doesn't work out. He's also displeased to learn Abby's actually from Texas, not the Northeast, leaving her to decide whether she should return to fix her work life or follow her heart and stay in Texas.
Written by Gregg Rossen and Brian Sawyer — with a rewrite by Duane Poolethe — and directed by Richard Gabai, the Hallmark movie's cast also includes Shannon Chan-Kent (Gina), Matt Mazur (Jacob), Maddie Phillips (Janet), David Lewis (Carrington), Richard Ian Cox (Howard), Caitlin Stryker (Carmen), Mary-Margaret Humes (Constance) and Drew Henderson (Ken).
Catch the new Countdown to Summer flick when "A Feeling of Home" premieres on Hallmark on Saturday at 9 p.m. EDT.
© Copyright IBTimes 2023. All rights reserved.
FOLLOW MORE IBT NEWS ON THE BELOW CHANNELS