Female Backpacker Raped In Thailand While Sleeping On Road, Drunk Local Arrested
A British female backpacker was raped on a popular tourist island in Thailand while she was sleeping on the street Tuesday. A local man allegedly confessed to the attack after being questioned by police.
Local media reports said the 21-year-old woman was traveling with a male friend in Koh Phi Phi island, which lies off the coast of Krabi in southern Thailand, on the day of the incident. They got late traveling back to their hostel and decided to sleep outside a restaurant.
Police said that a local man, identified as Trairat Changsanan, saw the duo sleeping while he was walking past the restaurant. He told police he used scissors to cut off the woman's denim shorts before he raped her. The man admitted he was under the influence when he committed the crime.
When the female backpacker woke up the following morning, she feared she had been raped and contacted police. Officers checked nearby surveillance footage and nabbed the alleged attacker.
"She came with no actual evidence of the incident, so the investigators took her to the hospital for her body to be checked in order to find traces of sexual abuse," a spokesman for the police, Krissana Patanacharoen, told U.K.'s the Sun. "Meanwhile, police officers went to the area to find possible evidence and check CCTV... He has been taken to Krabi Provincial Police and currently under the police custody."
The attacker was arrested Wednesday and charged with rape and violent threatening behavior against a person who is in a state of inability to resist.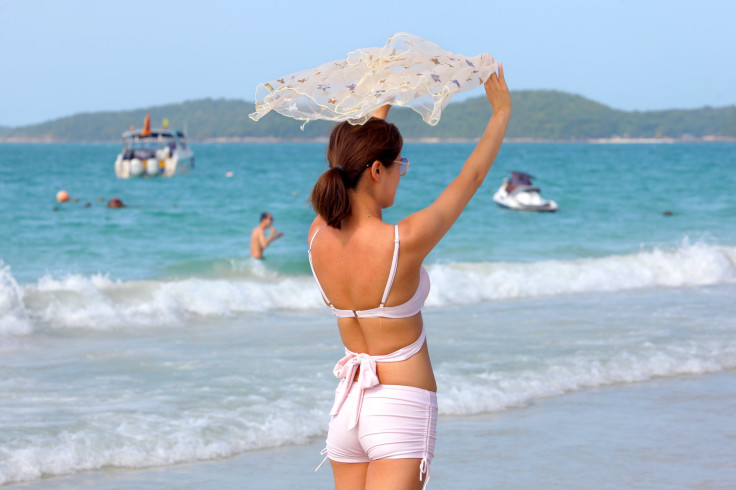 Earlier in April, another incident was reported from Thailand when a female German backpacker was raped and murdered while holidaying on the island of Koh Sichang, off the country's eastern coast. Miriam Beelte, 26, from Hildesheim, Germany, was found dead with severe wounds to her head and a broken leg. A 24-year-old local man, identified as Ronnakorn Romruen, was arrested and he confessed to raping and killing the woman. Romruen also admitted to police that he was "high on meth" when he attacked the woman.
"Violent sexual assaults and unprovoked attacks have been reported in tourist destinations across Thailand. These are particularly common during Full Moon parties and other similar events and late at night near bars," an undated advisory on the U.K. government's website read. "Alcohol and drugs can lead to you being less alert, less in control and less aware of your environment resulting in accidents, injuries, robbery, assaults and lost travel documents. If you drink, know your limit."