Ferguson Grand Jury Documents Reveal Missteps By Officer Darren Wilson, Investigators, Prosecutor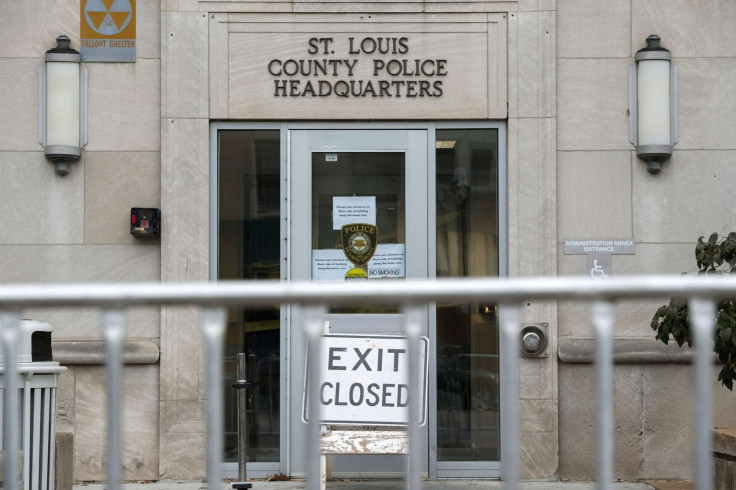 Michael Brown was lying face down, dead in the street, when a Ferguson police sergeant arrived on scene for backup on Aug. 9. Officer Darren Wilson had blood on his hands and the sergeant instructed him to wait in the car until he could be interviewed. But, as a "hostile" crowd amassed, the sergeant told Wilson to return to the police station. Wilson took the sergeant's police vehicle and drove back alone.
"I immediately go to the bathroom," Wilson said, during his testimony in front of a Missouri grand jury on Sept. 16. "I had to wash my hands."
It began as a white officer addressing two young black men walking in the street with a box of stolen cigarillos. It ended in the fatal shooting of an unarmed teen in a St. Louis County suburb. Now, Brown's death has burgeoned into national outrage and a debate over a system where, overwhelmingly, white cops police black communities and white police officers often appear immune from consequences.
Following a return of no indictment in Brown's death, 286 pages of released grand jury documents illustrate what appears to be a threefold failure of law enforcement and the justice system: An officer's inability or unwillingness to defuse a tense situation in an already "anti-police" neighborhood, a sloppy investigation, and a prosecutor's divergence from a traditional grand jury strategy.
Whatever happened on that street in Ferguson that August night, whatever the rules of engagement were supposed to be, many now bemoan a lost opportunity to properly reckon with the event. Whether justice was served remains a matter of anguished debate. But it's clear from the documents released by the prosecutor that the investigative and judicial process deviated from established standards in crucial ways.
In his testimony, Wilson recounted the moments that led him to fire at the unarmed 18-year-old. "I felt like a five-year-old holding onto Hulk Hogan," Wilson said, describing how he grabbed Brown's arm after the teen blocked him from getting out of his Chevy Tahoe police cruiser. Wilson said he and Brown exchanged curse words. Then Brown reached into his car and began punching him in the face and lunging for his gun. Wilson said he grabbed the pistol and fired two shots.
In an exclusive interview with ABC's George Stephanopoulos, Wilson said shooting and killing Brown was unavoidable and he would not have done anything differently.
Mara Haberfeld, a professor at John Jay College of Criminal Justice in New York City, told an International Business Times reporter Wednesday that Wilson "went by the book" and stuck to his training. But, Samuel Walker, a criminal justice professor at the University of Nebraska Omaha, told the reporter that Wilson should have been able to handle the teen with "take-down techniques" and without firing shots. "There are many things he could have done differently," said Walker, who has been a consultant to police departments and cities. "This episode shouldn't ever have happened."
According to grand jury witnesses, interviews with Wilson after the shooting were not taped and an investigator from the St. Louis County Medical Examiner's office said he did not take measurements or his own photographs at the crime scene. The investigator, who said he's been in the field for 25 years, told the grand jury his camera battery was dead so he used photographs provided by the St. Louis County Police Department for his investigation instead, the Washington Post noted.
Investigators also did not photograph Wilson's bloodied hands before he washed them twice at the station. After, Wilson said he put on gloves and placed his gun into an evidence envelope himself. When St. Louis County prosecuting attorney Robert McCulloch asked whether it was standard procedure for an officer involved in a shooting to handle the evidence, Wilson replied, "I don't really know." McCulloch did not press further.
McCulloch allowed the officer to testify for hours in front of the grand jury and never challenged Wilson's account of his confrontation with Brown. McCulloch also presented the jury with all the evidence gathered, regardless of whether it supported or contradicted a prosecution. "Our goal was that our investigation would be thorough and complete, to give the grand jury, the Department of Justice and ultimately the public all available evidence," McCulloch said Monday, following the jury's decision not to charge Wilson.
The justice system is intended to guard against overzealous prosecution. But it's up to the judge and grand jury members, not the prosecutor, to provide the counterweight or counter-arguments.
In the 1992 Supreme Court case of United States v. Williams, Justice Antonin Scalia explained that, "Neither in this country nor in England has the suspect under investigation by the grand jury ever been thought to have a right to testify or to have exculpatory evidence presented." The U.S. Constitution does not require prosecutors to present evidence favorable to the defense. It is the grand jury's role to decide whether there is enough evidence for a criminal charge. Yet McCulloch presented evidence both against and in favor of Wilson's prosecution.
Ronald Sullivan Jr., director of Harvard University's Criminal Justice Institute, told the Los Angeles Times that this was a "strategic move" on McCulloch's part to not make a strong case for a conviction without seeming responsible for his own failure as a prosecutor. Sullivan said it was "the most unusual marshaling of a grand jury's resources I've seen in my 25 years as a lawyer and scholar."
Had the system and its representatives proceeded differently -- had there been a de-escalated confrontation, a thorough and careful investigation, or a grand jury proceeding with tougher questioning -- the tragedy of Michael Brown's death and the fury in Ferguson might well have been averted.
© Copyright IBTimes 2023. All rights reserved.