Ferguson Man Shot In Face Video: Normandy Witnesses Describe Exchange With Police, But Unclear Who Pulled Trigger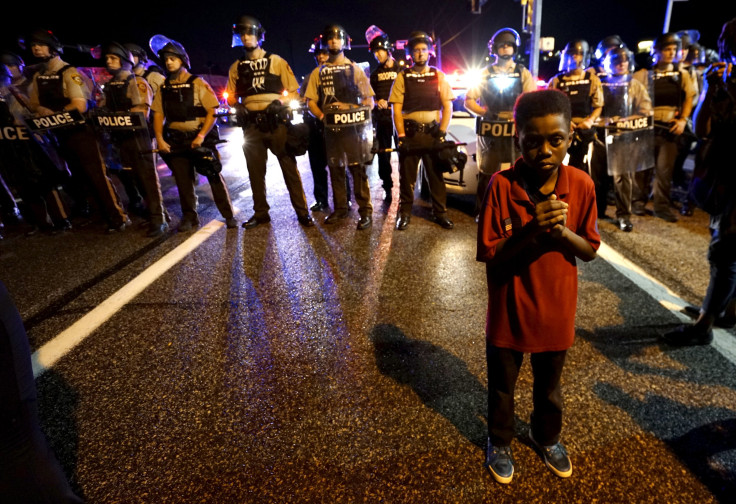 Update 6:34 p.m. EDT: The Normandy Police Department released a statement Wednesday afternoon after a potential police shooting case spread across social media. Police were called to the scene at 2 p.m. CDT by concerned family members to tend to a "suicidal subject," an 18-year-old male whose name was not revealed. When officers tried to talk to him he was uncooperative and started to walk down the street.
Normandy police continued to try to talk to the individual, which is when he took out a handgun from his waistband and opened fire on the officers. One of the Normandy police officers tried to use an issued Taser gun, but it was ineffective. It was at that point that officers "returned fire," but did not apparently strike the subject, according to the statement.
The 18-year-old ran away and officers temporarily lost sight of him. They heard a gunshot, turned a corner, and saw the male lying on the ground. They called for medical assistance and he was taken to the hospital. He was in critical condition Wednesday night.
The investigation was turned over to the St. Louis County Police Department Bureau of Crimes Against Persons. The statement asked witnesses to speak up. "Again, these are the facts surrounding this investigation that are available at this time," the statement said. "Anyone with information or who may have witnessed this incident is encouraged to contact St. Louis County Police Detectives."
UPDATE: 5:11 p.m. EDT: Officers from the Normandy Police Department, which services a town that neighbors Ferguson, were called to help Wednesday to find a "suicidal subject," according to St. Louis Today. They encountered the person in a neighborhood close to his residence, and he kept walking away from them.
The man fired shots at the police officers and then ran, St. Louis news station KTVI reported. He then shot himself in the face of the front yard of a residence.
"Residents near Ferguson/Normandy say police shot man in the face, killing him," wrote KTVI reporter Seth Lemon on Twitter. "Police say victim shot at them, then shot himself."
The suspect was taken to a hospital, but his condition is not known, according to St. Louis Today. Ferguson, Normandy and St. Louis Police are investigating the incident. There are evidence technicians on the scene.
Following the public response to the August 2014 police shooting of Brown, the Ferguson area has faced scrutiny for police brutality. A Justice Department report was issued in March that accused the Ferguson Police Department of "illegal and discriminatory enforcement actions that particularly exploited African-Americans," according to Reuters. Several city officials were fired or resigned after the report was released.
The Ferguson Police Department has since established reform efforts such as anti-bias training and ramped up minority recruitment.
Original Story: A man was shot in the face Wednesday during an exchange with police near Ferguson, Missouri, where one year ago, 18-year-old Michael Brown was fatally shot by a police officer, sparking outrage and protests nationwide over what demonstrators said was racial bias.
Whether the gunfire was at the hands of the police or the victim remains unclear. Witnesses claim police shot the man, while the Normandy Police Department said the victim shot himself.
Some bystanders took to Twitter to describe the scene.
This story is being updated as news becomes available.
© Copyright IBTimes 2023. All rights reserved.