Ferguson Media Tensions Escalate: Police Officer Accused Of Pulling A Gun On Photojournalist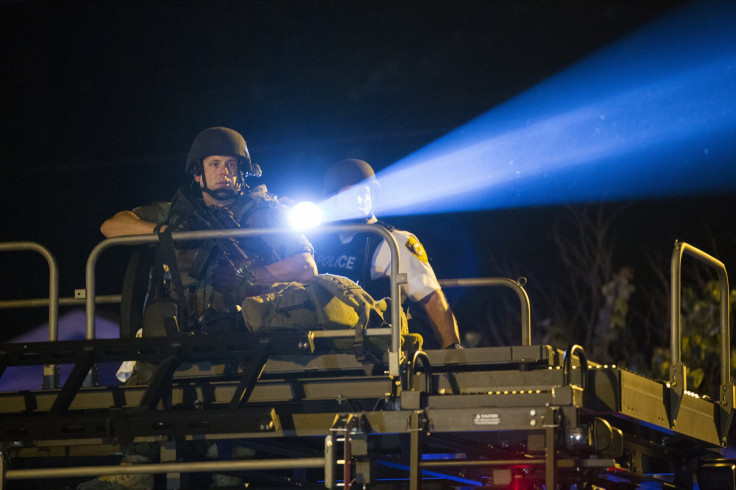 As tensions between Missouri law enforcement and members of the media continue to run high, a photographers' group is calling for a formal investigation after a photojournalist in Ferguson this week said a police officer pulled out a gun and pointed it at him simply for asking for directions.
In a letter sent to state, city and county officials on Wednesday, Mickey H. Osterreicher, general counsel for the National Press Photographers Association (NPPA), condemned what he described as "unlawful and unprofessional activities" against Raffe Lazarian, a freelance photographer who has been covering the Ferguson protests that erupted in the wake of Michael Brown's death at the hands of a police officer.
As Osterreicher tells it, Lazarian merely asked a police officer which way he needed to go to get to the media area. The officer's response, Osterreicher said, was extreme to say the least. "In contravention of all known and accepted firearms policies the officer drew his weapon and pointed it at Mr. Lazarian in a threatening manner and then used it to gesture in the direction he wanted him to go," Osterreicher wrote.
Lazarian is a freelance photojournalist based in Memphis, according to his website. He tweeted about the alleged gun-pointing incident on Wednesday.
It's unclear from the formal complaint whether the officer was a member of state, county or local police. Osterreicher addressed the letter to officials from all three jurisdictions: Colonel Ronald K. Replogle of the Missouri State Highway Patrol, Chief Jon Belmar of the St. Louis County Police Department and Chief Thomas Jackson Ferguson Police Department.
The complaint follows numerous confrontations between Missouri law enforcement and members of the media, including Scott Olson, a Getty Images photographer who was arrested just a few feet outside the press area earlier this week. CNN reported on Tuesday that at least 11 journalists have been arrested since the August protests began.
While free-press organizations have vocally denounced what they describe as willful First Amendment violations in Ferguson, some media analysts have expressed concern that too much emphasis placed on the plight of journalists could overshadow the core issues of entrenched racism and community outrage that arose with the shooting of an unarmed black man earlier this month.
Osterreicher wrote that he has been in Ferguson for the past few days and witnessed firsthand incidents of "egregious behavior," which he said must be addressed and corrected before someone is seriously hurt.
"As we noted, in any free country the balance between providing police protection and over-zealous enforcement is delicate," he wrote. "It is one thing for officers to act when there is reasonable suspicion; it is quite another to abuse that discretion by chilling free speech and creating a climate of fear and distrust under the pretext of safety and security."
Read the full complaint letter here.
© Copyright IBTimes 2023. All rights reserved.