Ferguson Media Blackout: Mike Brown Shooter Hidden, Journalists Arrested, Secrecy Backfires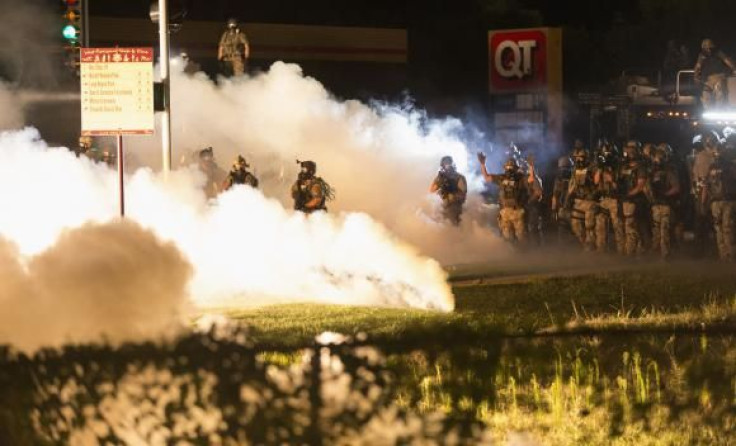 Officials in Ferguson, Missouri, are getting a first-hand lesson in the "Streisand effect," or at least something very close to it. The popular concept, which refers to the viral spread of information that one is actively trying to suppress, is typically used to describe unflattering photos of Beyoncé or some trivial piece of celebrity gossip. But against the lens of blatant press censorship in the St. Louis suburb where the shooting death of Michael Brown has sparked days of civil unrest, the folly of trying to quash information in the digital age is becoming all too apparent.
"It's backfired," said Sandy Davidson, a professor of communications law at the Missouri School of Journalism. "It's spiraled out of control."
Police departments are often criticized for their lack of transparency, but Davidson said authorities in Ferguson seem particularly bent on operating in a vacuum, even if it means thwarting attempts to document the scene. Amid protests on Wednesday, Ryan J. Reilly and Wesley Lowery -- reporters from the Huffington Post and the Washington Post, respectively -- were arrested by police inside a McDonald's restaurant. Later than night, police reportedly fired tear gas and rubber bullets at an Al-Jazeera America news crew reporting from behind police barricades. A spokeswoman for Al-Jazeera America called the act an "egregious assault on freedom of the press."
But rather than quell information about the chaotic scene, the attacks on the press are having the opposite effect. The hashtag #MediaBlackout began trending on Twitter Thursday morning and continued throughout the afternoon as Twitter users shared their collective outrage. Many posted their own photos and videos of the chaos. By the morning, virtually every major news outlet had covered the journalists' arrests.
In fact, every piece of information Ferguson officials have tried to keep from leaking has come back to bite them. Despite vocal outcries from community leaders, Ferguson Police Chief Thomas Jackson has refused to release the name of the officer involved in Brown's shooting, citing death threats against the officer. It's a valid concern, and one Davidson said is supported by legal precedent. She cites a 1982 appellate case in her home state of Missouri, which held that public information can be withheld if releasing it would cause a "foreseeable risk of harm." The Supreme Court let the decision stand in 1983.
But legal or not, withholding information has consequences, including a risk that those withholding the information will be perceived as having something to hide. "You can't trust what you don't know," Davidson said. "Anytime a veil of secrecy is thrown on something, I think it leads to speculation, which can get more and more odious."
And on Thursday morning, that odor was upgraded to full-blown stench when the hacker group Anonymous released the name of a person it claimed was the officer responsible for Brown's death. Within minutes, Twitter users had dug up Facebook profiles, background checks, and other identifying information -- including phone numbers, email address and street addresses linked to the individual. Countless Twitter users tweeted photos of the person, calling him a murderer. "He just look racist," one person tweeted.
The St. Louis County Police Department offered a denial, calling the identified individual a "random citizen" who does not work for the Ferguson nor the county police. The department begged Internet users not to release more information on the man, but in some ways it's already too late. The information is out there, on social networks, message boards and any corner of the Internet patrolled by digital witch hunters. One thing about the Streisand effect: It doesn't care if the information it spreads is true or false.
Davidson, who said she is heartbroken watching streets in her home state look like "a scene out of Gaza," said it's all a reminder of how important it is for law enforcement to release truthful information as quickly as possible. "Sunshine is a disinfectant," she said. "I think that's generally a good principle."
Correction: An earlier version of this story misstated the date that the Supreme Court let the Missouri appellate case stand. It was 1983.
FOR FREE to continue reading
✔️ Unlock the full content of International Business Times UK for free
offer available for a limited time only
✔️ Easily manage your Newsletters subscriptions and save your favourite articles
✔️ No payment method required
Already have an account?
Log in
© Copyright IBTimes 2023. All rights reserved.