Ferguson Police Chief Botches Press Conference To ID Mike Brown Shooting Officer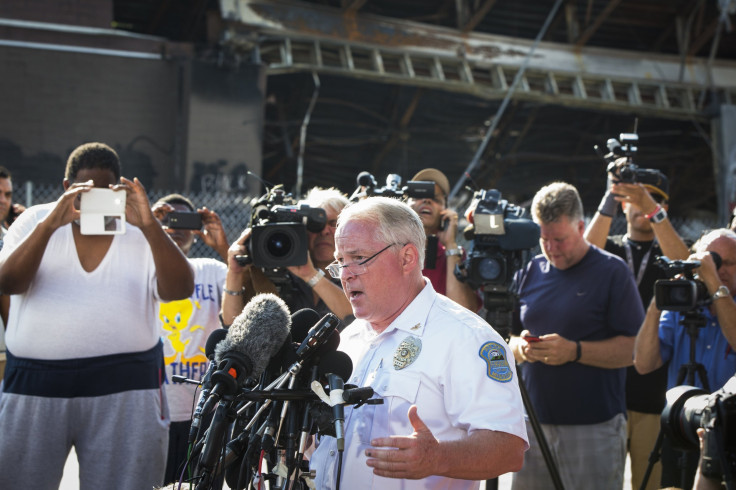 In an awkward press conference on Friday, Ferguson Police Chief Tom Jackson finally revealed Darren Wilson as the police officer who shot and killed Mike Brown, six days after the incident. The ID came after Jackson read what some felt was an unnecessary blow-by-blow of Saturday's deadly events from a prepared statement – and struggled to stay coherent.
"He comes across as a bumbling, stumbling, inept leader," said Joyce Newman, a crisis communications veteran and founder of The Newman Group. She believes that Jackson not only damaged his own department's reputation but also tainted the image of police officers in general.
"He's all over the news," Newman said. "He becomes the face of the police today; it doesn't matter if he's in Missouri or Auckland."
The much-anticipated press conference came nearly a week after Brown -- 18 years old, black, and unarmed -- was shot and killed by officer Wilson. Ferguson residents and the American public at large were anxious for answers and impatient with the police department's refusal to disclose the name of the shooter in the days following Brown's death, which led to mass protests in Ferguson and put the small St. Louis-adjacent city of 21,000 in the national media spotlight.
Both Newman and James Lee, the founder of The Lee Strategy Group, who worked as California Governor Pete Wilson's press officer in the 1990s, noted that the Ferguson police department seemed egregiously unprepared for the kind of attention this crisis has brought them.
"It's typical in smaller towns that they follow standard procedures and fail to realize the political dimensions of the incident," Lee said, "especially when the national media was intent on framing the situation in an inflammatory manner."
"Even the smallest police departments need to have a crisis response department in place," Newman said.
But Eric Dezenhall, author of "Damage Control: Why Everything You Know About Crisis Management Is Wrong," believes that the Ferguson police department's press conference was predestined to be a disaster.
"When emotions are running high, and there is an overwhelming demand for scalps, press conferences are always -- and I mean always -- deemed to have been botched," Dezenhall said. "Fact is, press conferences, while you have to do them, aren't the antidote to acute crises; they are just the first step in a very long process."
But far from failing to improve the situation, Jackson's performance seems likely to have further convinced an already skeptical public that the Ferguson police department is not properly addressing the incident and is not adequately concerned about the welfare of its citizens. Jackson did not once name Mike Brown in the conference, and did not come across as particularly regretful that a young and presumably innocent life was lost.
So what could he have done differently?
"You have to start with, 'First of all, let me express my regret to the people of Ferguson,'" Newman said.
And Lee said he would have advised the Ferguson police department to "reach out to the family privately and promise them answers. You need to show compassion to the people hurt most by this incident."
Newman was struck at how little compassion Jackson showed in the press conference.
"His statement showed no empathy, no regret," Newman said. "He kept saying, 'I'm sorry, I'm sorry, I'm sorry. [But] he wasn't sorry for what happened. He was sorry that he couldn't read the statement."
© Copyright IBTimes 2023. All rights reserved.