'Fifty Shades Darker' Movie Rumors: Will 'Deleted Scene' From '50 Shades Of Grey' Be In Sequel?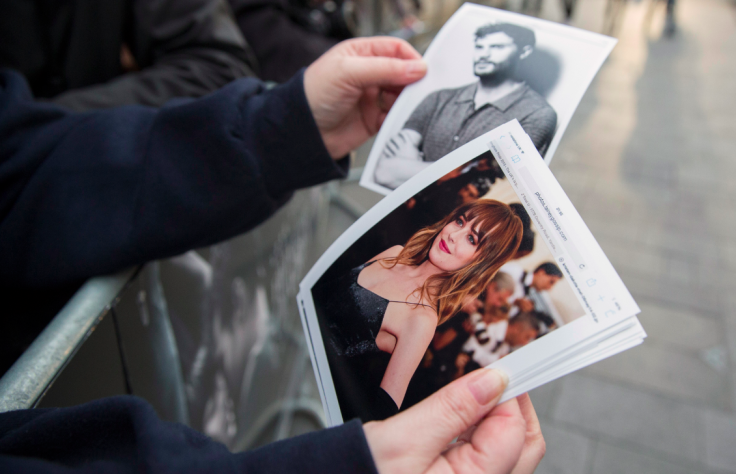 "Fifty Shades of Grey" has been in theaters for barely a week and fans already are clamoring for leaked movie news about "Fifty Shades Darker," the sequel to E.L. James' best-selling erotic novel. There's a picture of Anastasia Steele, played by Dakota Johnson, floating around the Internet, and some have wondered if it will appear in the new flick.
Twitter user Dakota Johnson Spain, which is a fan account for the "Fifty Shades" star, posted a picture of the actress dressed as Anastasia. She's wearing a white blouse, dark jean flats and clenching a jacket while getting drenched in the rain.
"So I guess these scenes could be part of 'Fifty Shades Darker' now," the user wrote to more than 1,500 followers. Dozens of people liked and shared the tweet.
SPOILERS BELOW
Most Twitter users weren't convinced the scene -- perhaps deleted from "Grey" -- would be in the sequel. The new film ends with Ana breaking up with Christian Grey (Jamie Dornan) after he shows her just how much it can hurt to be submissive to the Seattle billionaire. While Christian is relieved to "reprimand" Anastasia, she's hurt not only physically, but emotionally too. She gets into the elevator and doesn't allow him to touch her.
So will the second film take off right where the first left off? Not much is known about the sequel, except that it will start filming soon. Dornan and Johnson will return as the leads when shooting starts in Vancouver in June. One thing that isn't so clear is who will direct the film. Sam Taylor-Johnson originally said she would return, but rumors have swirled that her creative differences with James on the first film are enough to make her want to quit.
To find out everything we know about the movie "Fifty Shades Darker," check out this article by International Business Times reporter Rebecka Schumann.
Follow me on Twitter @mariamzzarella
© Copyright IBTimes 2023. All rights reserved.