'Fifty Shades Of Grey' Trailer Premieres, Jamie Dornan And Dakota Johnson Visit The 'Today' Show [VIDEO]
The day "Fifty Shades of Grey" fans have been waiting for has finally arrived: Universal is releasing the film's first official trailer on NBC's "Today" show Thursday ahead of its debut in theaters on Valentine's Day.
The trailer for the film, which stars Jamie Dornan as the electrifying Christian Grey and Dakota Johnson as the virginal Anastasia Steele, features some of the best-selling novel's most memorable scenes. The two-minute sneak peek kicks off with Anastasia's interview with the sadistic billionaire and ends with his revealing his infamous "Red Room of Pain."
While "Today" did not feature some of the footage's more risqué elements, NBC touting the trailer as "too-hot-for-morning-TV," fans can now view the full trailer below, and at Today.com.
Also on hand to celebrate the "Fifty Shades" trailer release were on-screen lovers Dornan, 32, and Johnson, 24, in their first dual TV interview.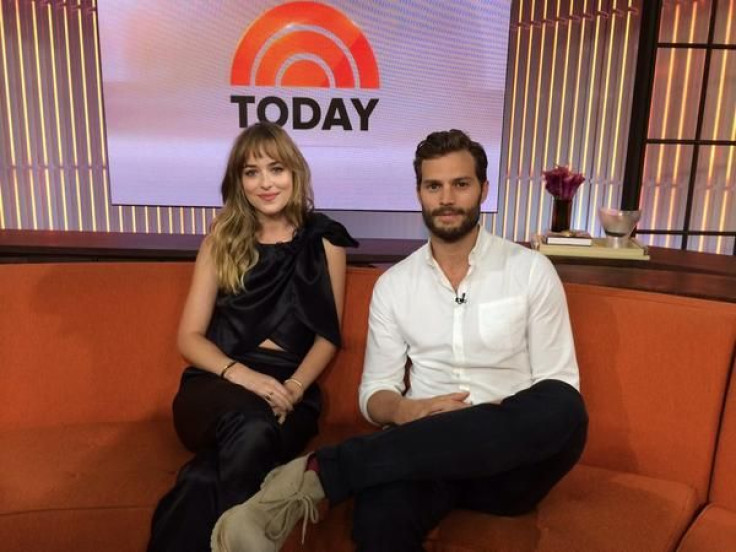 "It's not like a romantic situation," Johnson said of filming the feature's explicit bedroom scenes. "It's more like technical and choreographed and its like more of a task."
Despite their discomfort with shooting the adaption's X-rated sequences, Dornan, who is married to actress Amelia Warner and recently became a father, said his instant chemistry with his co-star made filming all the more easier.
"I mean that's a big part of it. Having that, and having trust," he said. "We got ourselves into situations that don't feel that sort of natural and they're not that easy and you need to have the trust there."
The first teaser for the film was released by Beyonce via Instagram Saturday. "Today" has since confirmed that a special remake of the singer's 2003 single "Crazy In Love," used in both the teaser and the trailer, will be featured on the movie's soundtrack. "She's a good friend of ours," Dornan joked of the superstar songstress's involvement in the film.
The "Fifty Shades of Grey" movie is based on the first installment in best-selling romance series penned by British author E.L. James. The tale follows Christian Grey, a BDSM-practicing businessman, and his lover, college graduate Anastasia Steele.