FiiO UTWS3 X M11 Pro True Wireless Bluetooth Amplifier Review: Powerful Bass Setup for Audiophiles
This article uses affiliate links, which means if you purchase products through these links, we may earn a commission. Click here to see our
T&C
. For licensing please click
here
.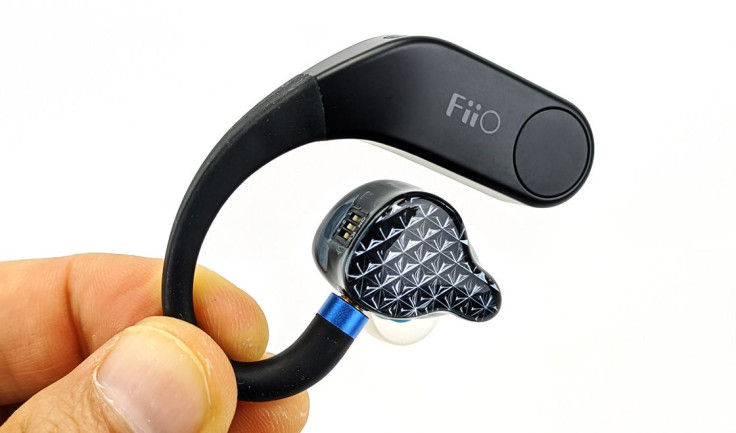 What does it mean to be an audiophile? According to merriam-webster.com, it means someone who is enthusiastic about a faithful sound reproduction to the original, which is precisely why I am reluctant to call myself one. Sure I love realistic and accurate sounding music, especially when it comes to acoustic sets and nuanced vocals - but not all the time. From time to time, I'd like to turn up the low-end and enjoy a shamelessly overpowered session of punchy beats and visceral bass lines.
The problem is, when it comes to audio gear it's usually either one or the other. The FiiO M11 Pro for example is excellent in reproducing amazingly clarity and detail, especially out of its 4.4 mm balanced output, but when it comes to bass boost - it's frequency balance is too delicate and easily blows out even with the smallest of bass boosting.
However, I believe I have found the magic formula when combining the M11 Pro with the FiiO UTWS3 Bluetooth amplifier and with the right music app. I'm getting the biggest bass even out of Balanced Armatures: here's how I did it.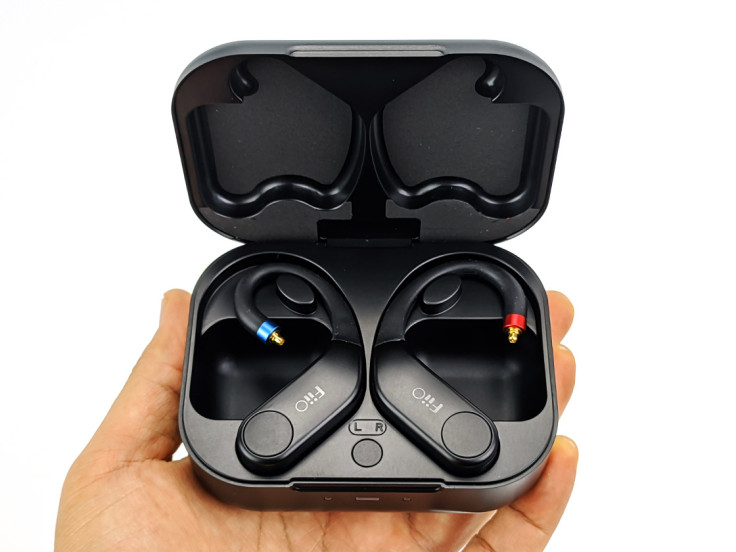 FiiO's In-house True Wireless Bluetooth Amplifier
What sets FiiO apart from your typical audiophile gear maker is that they are not hung up on wired devices only. Instead of falling into the 'purist' argument of staying away from Bluetooth compressions and decompressions for the sake of getting the most 'faithful' sound, FiiO boldly goes into the wireless realm with spades, especially when it comes to their flagship DAPs (Digital Audio Players).
In order to match their DAP prowess, FiiO did make their first attempt at a True Wireless Bluetooth Amp with their UTWS1. However they were a third-party device and more like a practice round for FiiO to develop a True Wireless Amp of their own: and that's what UTWS3 is all about.
Premium Oversized Metal Charging Case
The UTWS3 is housed in its own soap-sized charging case - equipped with a rugged metal (Presumably aluminum) lid, providing the unit excellent protection from physical damage. Since the case also features a very sizable cavity for the attached earphones, it's also providing secure storage for your ear pieces.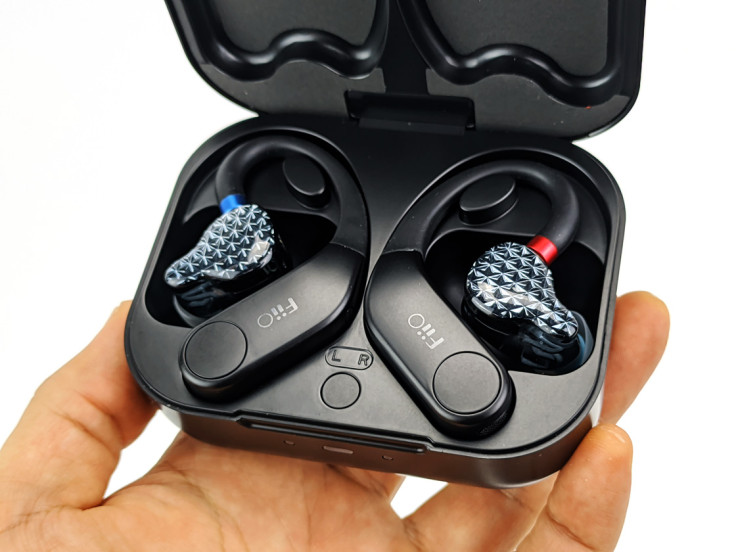 The size of the case itself is well utilized to contain a large battery, able to recharge the UTWS3 5-6 cycles, making the total battery life last an impressive 30 hours.
The pair of True Wireless amps are located and held in place magnetically, which starts the recharging automatically - just like what you would expect from popular TWS (True Wireless Stereo) earphones.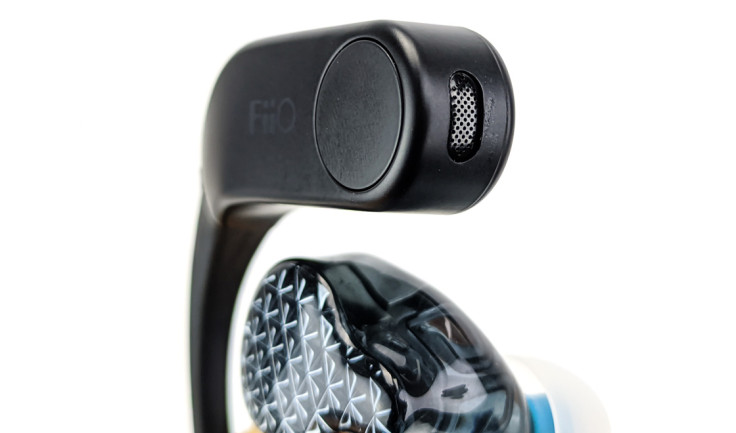 Over-ear Hook with Excellent Button Placement
The FiiO UTWS3 has an over-ear hook that loops most of its bulk behind the ear, which then extends over a memory wire over the top of the ear. You can choose whether you want the terminal to be MMCX or 0.78 pins depending on the earphone you want to use it with. The unit I'm reviewing is the MMCX plug, which is compatible with most of FiiO's earphones including the FD5 and the FA9 that I have on-hand, as well as most IEMs on the market.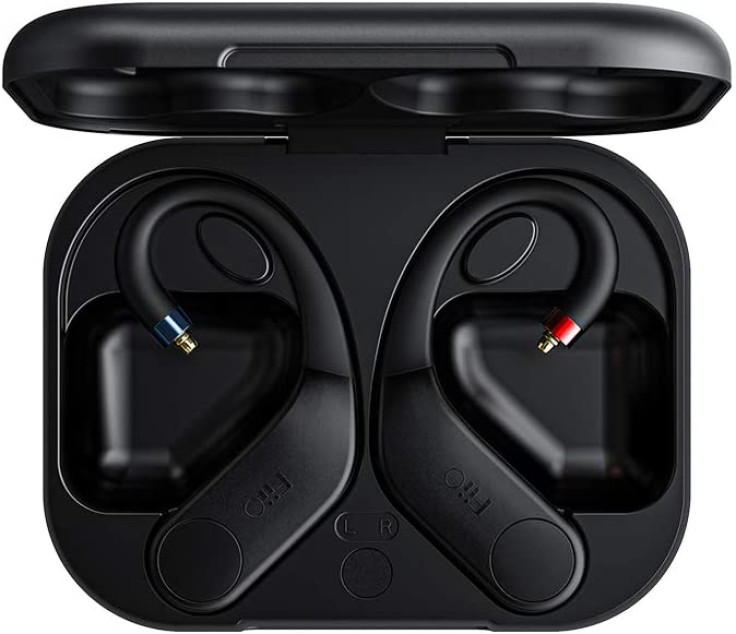 What I unexpectedly liked about the UTWS3 was the button placement, which is at the base of the side of its 'lobe', and when you hit the button you're pressing the unit against the part of the skull behind the ear. This makes each press of the button more accurate than the usual controls that's on the TWS earpiece itself, since you're pressing against something hard. It's also more comfortable as you don't end up pressing the earpiece deeper into the ear canal when pushing on a button.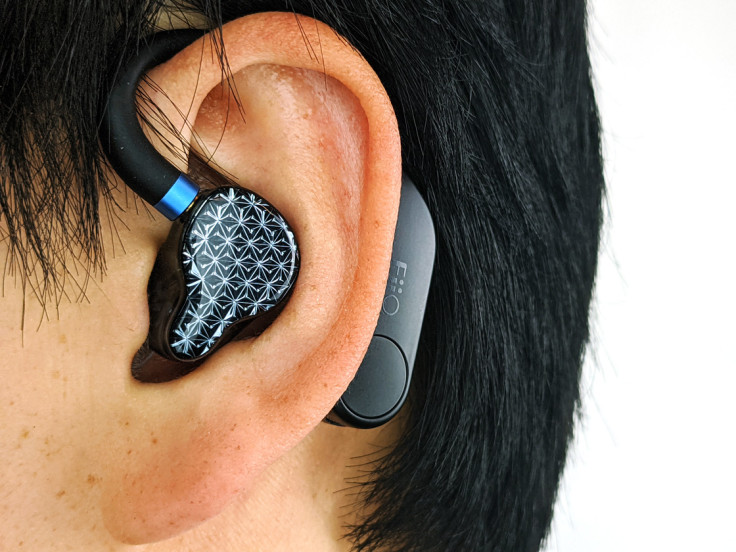 Stable Connectivity and Lightweight for High Mobility
The UTWS3's 'lobed' design allows the device to contain a more capable Bluetooth system that has quite an extended range. Doing my usual office connectivity test, I'm able to keep stable connections three plaster walls away - something that only the best Bluetooth earphones can do like the Jabra Elite 45H or the 1MORE ANC Pro.
The over-ear hook design also balances the front and back of the earphone, which helps with how well the earpieces stay in the ear, making the UTWS3 ideal for jogging, training in the gym and other movement intense situations.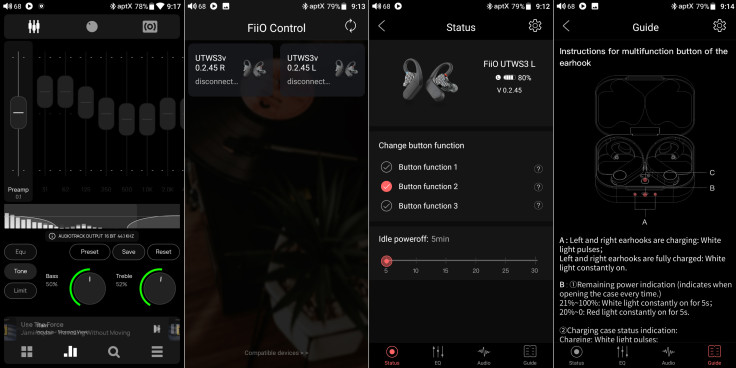 Reach New Lows on Your Earphone
As mentioned at the start of this article, the most impressive feature of the UTWS3 is how much bass it can get out from any earphone. But that's not to say there's something wrong with it's neutral sound. The aptX encoding does its job to pair the Bluetooth amp to the M11 Pro that I'm using and provides a high definition, low latency connection. However, the low-end is definitely where this pairing shines the brightest.
A crucial piece of the puzzle is to playback with an app that has a powerful bass boost, and after trying out many music apps on the Google Play store, I always circle back to Poweramp's Bass and Treble boost.
When you pair the UTWS3 with the M11 Pro and playback with Poweramp, something magical happens. I'm able to get jaw-dropping bass even from the Balanced Armature driven FA9 that is not usually known for it's extended bass response. If you really want to go-for-broke, couple the set up with the FiiO FD5 with its 12 mm DLC dynamic driver and you've got the dream rumble machine, capable of producing the biggest bass I've ever heard.
I'm unable to explain how this phenomenon works, but for some reason the bass never cracks in this set up. Even if I turn up the bass boost on the Poweramp to 100% (Which is a stupid amount of bass that I doubt anyone would actually enjoy) the ridiculous bass it produces is still intact without distortion. Compare this to a wired connection to the FiiO M11 Pro, the bass will blow out even with a measly 20% boost, it's a night and day difference in performance.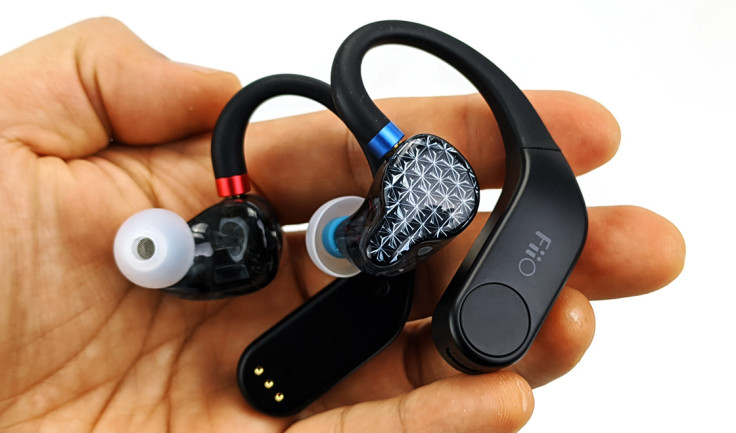 Final Verdict
If you consider yourself an audiophile, but have a secret craving for massive bass from time to time, this is one combination that is guaranteed to work. Since the FiiO UTWS3 has an interchangeable connector, it doesn't matter what sort of earphone you have, it is guaranteed to give them that serious bass boost that you've been dreaming for.
The bass anomaly aside, the UTWS3 itself is an amazing piece of gear that anyone who wants to go wireless should consider. From it's carrying case, to its well balanced design, to how secure and comfortable they are to wear, these are fantastic Bluetooth amplifiers that I wholeheartedly recommend. We're rewarding the FiiO UTWS3 our IBTimes Recommended badge.
Sam is a production engineer turned tech writer who specializes in seeking out gadgets that enhances productivity while still looking sharp. This is a contribution to an ongoing IBTimes review series on gadgets for Business Travelers.
FOR FREE to continue reading
✔️ Unlock the full content of International Business Times UK for free
offer available for a limited time only
✔️ Easily manage your Newsletters subscriptions and save your favourite articles
✔️ No payment method required
Already have an account?
Log in
© Copyright IBTimes 2023. All rights reserved.