Firefox Vs. Chrome: Mozilla Takes Top Honors In Latest Web Browser Grand Prix
In the latest Web Browser Grand Prix, Tom's Hardware judged five leading web browsers in eight different categories to determine which one is truly the best way to surf the Internet. In an upset, Mozilla Firefox was named the top browser of 2013, beating Google Chrome for the first time in years.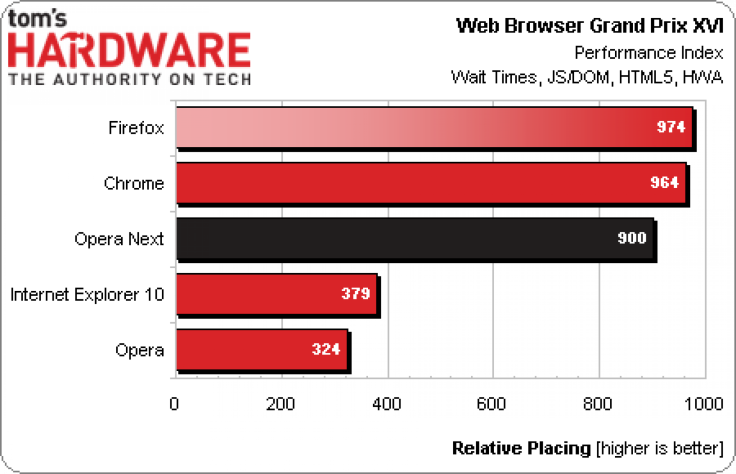 As far as performance metrics such as wait times and hardware acceleration, there wasn't much of a difference between Firefox 22 and Chrome 27. Tom's even noted that if it rounded, it would have been a tie. The two were far ahead of Internet Explorer 10 and Opera 12, which weren't able to score even half of the points that Firefox and Chrome earned.
The Web Browser Grand Prix also took a look at Opera Next, an upcoming browser that is based on Chromium. It hasn't been officially released yet, but was nearly three times faster than Opera 12.
It was in the nonperformance categories like memory efficiency, reliability, security and standards conformance that Firefox was really able to shine. Bad page load reliability put Chrome in a pretty distant second place. Opera Next doubled the score of the current version of Opera, and would have been in second place if it qualified. Internet Explorer 10 was about 15 percent behind Chrome, and Opera 12 came in last place.
"Although this is not the first time that Firefox has edged out Chrome, this is the most punishing margin of victory," Tom's Hardware wrote. "Now, the onus is on Google to either completely outplace Firefox in performance (as it once did), or focus on addressing Chrome's own weaknesses."
You can read full breakdowns on each web browser here.
© Copyright IBTimes 2023. All rights reserved.