First Lady Jill Biden Unveils Holiday Decor Theme: 'We The People'
Jill Biden unveiled the White House holiday decor on Monday in anticipation of over 50,000 visitors that will visit the space this holiday season.
The holiday decor theme for this year, "We The People," had been chosen by the first lady months ago, according to a White House release. More than 150 volunteers helped in decorating the public rooms.
"As our country gathers for the holidays, traditions may vary, but our shared American values – a belief in possibility, optimism, and unity – endure season after season," President Joe Biden and Jill Biden wrote in the White House holiday guide.
The decor showcases the traditions of the White House, as well as the Biden family. The entire space features 77 Christmas trees, 83,615 holiday lights and 25 wreaths.
The White House library has displayed a copy of the Declaration of Independence, which was printed in 1845 in accordance with the theme.
Each room holds a different theme within the larger "We The People" theme.
"The values that unite us can be found all around you, a belief in possibility and optimism and unity. Room by room we represent what brings us together during the holidays," Jill Biden said on Monday.
The East Wing entrance hosts a sign which reads the theme, "We the People." The columns and beams feature bells to "symbolize the unifying and healing power of music, welcoming guests with melody and song."
The East Room is centered around nature and recreation, including details from four national parks.
The Blue room houses the official White House Christmas tree from Pennsylvania. The space is themed "Unity & Hope," featuring renderings of state birds around the tree.
Last week, Jill Biden welcomed the 18.5-foot tall Concolor Fir, the centerpiece of the room.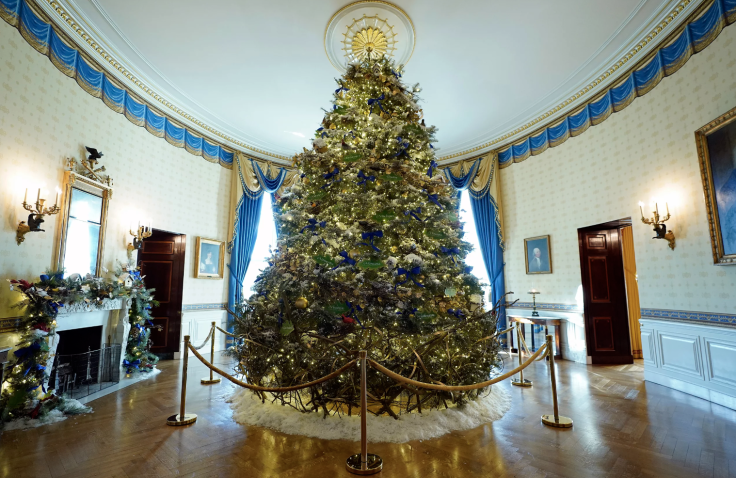 The Red Room, "Faith & Light" features the White House tradition of cranberries as well as Jill Biden's favorite flowers, orchids.
The annual White House gingerbread house sits at over 300 pounds in the State Dining Room next to a cookie replica of Philadelphia's Independence Hall. According to White House pastry chef Susan Morrison, the piece includes 20 sheets of sugar cookie dough, 30 sheets of gingerbread dough, 30 pounds of chocolate and 40 pounds of royal icing.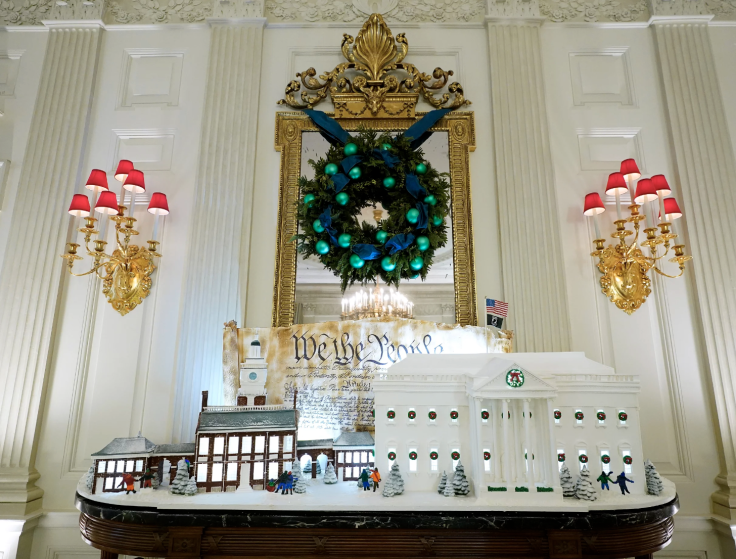 The State Dining Room's theme is "We the Children." The fireplace is adorned with stockings sitting above a set of children's books which feature a paper replica of the Biden dog, Commander. The stockings are filled with an orange in the toe, a tradition passed down by Jill Biden's grandmother.
Statues of Joe Biden's dog Commander and cat Willow are displayed throughout the decor of the White House.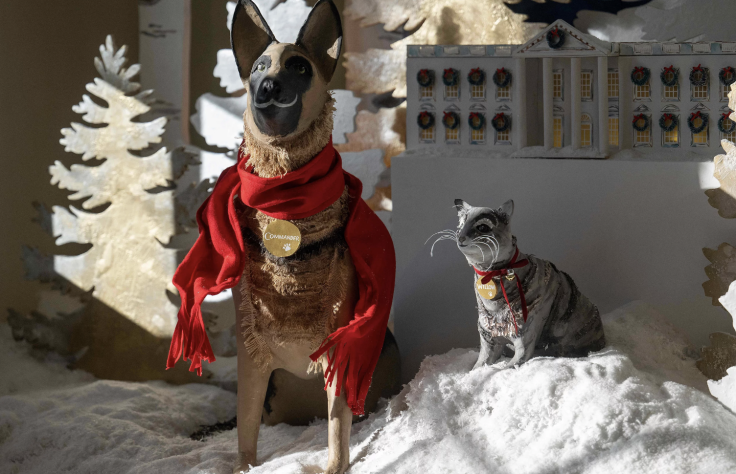 Recipes adorn the fireplace mantel in the China room, themed "Food & Traditions."
Jill Biden's apple crisp recipe is among the others which were contributed by volunteers who helped decorate the space.
© Copyright IBTimes 2023. All rights reserved.
FOLLOW MORE IBT NEWS ON THE BELOW CHANNELS