Fixing Schools Starts With Nutrition: Revolution Foods Made It A Thriving Business
Kirsten Saenz Tobey's lifelong passion for educating kids led to a business school project that exploded into a company that is changing the way we feed our children in school.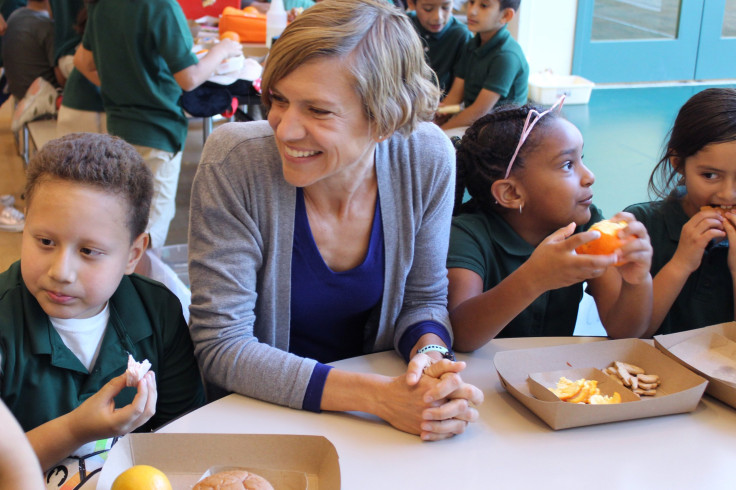 This week, we shine our Social Capital spotlight on one of our February honorees. She is a visionary business leader who recognizes that many people are often shut out of opportunity by a slim minority of individuals who seem to control "access" to so many crucial rights or resources – and are leading efforts to prove the opposite is good business.
"You don't have to be a nonprofit to be doing good in the world," says Kirsten Saenz Tobey, co-founder of Revolution Foods, which has been giving millions of children across America access to nutritional meals since its founding 2006 .
How she came to that realization – while pursuing her MBA at UC Berkeley's Haas School of Business – is part of what made her and her TMV co-founder, Kristin Groos Richmond, our honorees in February as Social Capital CEO's for " The New Revolution: Access."
The daughter of two educators, she says her frame of reference for leadership was always within the context of education and schools. That was also where she was inculcated with the concept of "doing good for others." Explains Kirsten, "My mom had introduced [at my school] the requirement of community service for graduation."
Spending a lot of time at food pantries, she says, "My eyes were opened to the fact that there was a lot of need in the world that was not being addressed. … As I got older, I started wanting to learn about why is it that some people don't have food on the table."
Her career choice at first was teaching "because that's what I knew." But she soon realized being a classroom teacher was not where she wanted to be long-term. "I kept thinking about the bigger system: Why is that some kids come into school ready to learn and other kids come into school not ready to learn and what are the conditions in their homes and neighborhoods that are creating these differences?"
Experiences teaching in Latin America raised Kirsten's awareness of food as an important part of kids being able to access the education they were being given. "Those were all prominent in my mind when I applied to business school. And then I met Kristin there the first week of business school."
Although coming from different backgrounds, the two found they had a lot in common. "We were in minority – our class was 25% women – but shared an openness to socially driven causes," Kirsten says. And then they took a class on Social Enterprise taught by William B. Rosenzweig , the founding CEO of Republic of Tea. She credits their professor's encouragement for them to start their business school project as a for-profit company. "I'm really glad that he did," she says, "because there's so much more access to capital, there's so much more potential for scale."
Taking their pilot program to real schools in the neighborhood, they experienced even more encouragement when a principal told them to "not make it just a business school project, but please make it a real thing."
Revolution Foods is truly making a revolution in how to do business. And the story as Kirsten relates it is full of surprises. Click on the video below to hear it.
© Copyright IBTimes 2023. All rights reserved.