'The Flash' Season 2 Spoilers: Director Kevin Smith Teases Plot Details, Possible Jay And Silent Bob Cameo In Episode 21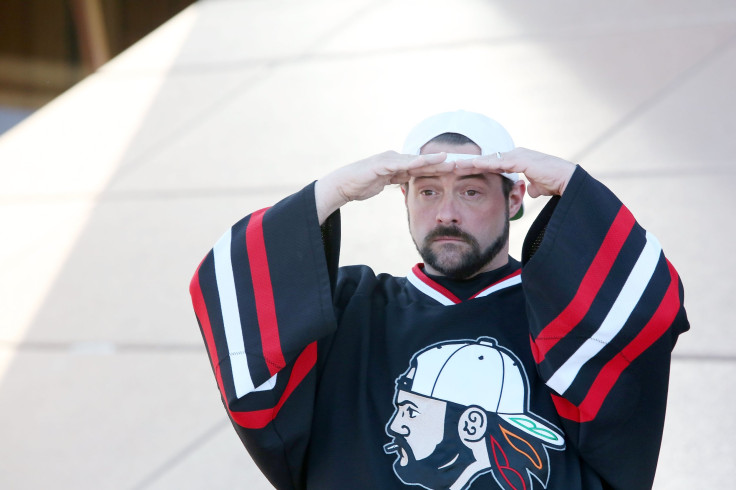 Director Kevin Smith has made a career for himself by being an unapologetic fan of superheroes and comic books. That's why it wasn't surprising to learn that he'd been brought on to direct an episode of his favorite TV show, the CW's "The Flash."
According to Entertainment Weekly, "The Flash" producer Andrew Kreisberg announced the news at this year's Television Critics Association press tour. The star of the AMC series "Comic Book Men" put in a call to the folks at "The Flash" and expressed what a colossal fan he is of the show. He politely asked if there was an episode in the future that he'd be a good fit for, and Kreisberg was more than happy to oblige. Now, the 45-year-old "Jay and Silent Bob" star has been sharing his experience on the set on Instagram.
Smith is even the one that revealed which episode of the series he'll be directing, the yet-untitled Season 2, episode 21. He posted several fan pictures, including one of him sporting the unique hat of Jay Garrick (Teddy Sears) as well as him getting his mouth covered by the villain Zoom, who was recently revealed to be an alternate universe version of Garrick. However, that doesn't mean that his teasers have been restricted to spoiler-free fanfare.
In the latest image, posted Wednesday, the director was joined by his former "Jay and Silent Bob" co-star, Jason Mewes. Together, they posed for a photo doing what they do best — loitering outside a public place. This time, they found themselves outside the set of the iconic "The Flash" location CC Jitters. Is it possible that Barry Allen (Grant Gustin) will bump into the foul-mouthed characters? Fans will just have to wait to find out!
While a cameo from Jay and Silent Bob is still speculative at this point, the photo's caption holds some minor spoilers for what to expect from Smith's "The Flash" directorial debut. In it, he promises that the new episode will break fan's hearts before quickly piecing them back together. These echo sentiments that Smith initially posted from the day he arrived at the Vancouver set of the show.
"The script is an emotional doozy that had me bawling from just reading it," he wrote. "So I'll be buying up all the Kleenex in town to make it through the episode intact."
It seems that the episode will be a heavy one for fans of the show, but the clues stop there. However, with Zoom being responsible for many character deaths on Season 2 of the hit series so far, it's possible that the villain isn't done affecting the group in a permanent way before Barry and the team finally find a way to stop him.
"The Flash" returns Tuesday, March 22, on the CW.
© Copyright IBTimes 2023. All rights reserved.