'The Flash' Star John Wesley Shipp Talks Earth-3 Jay Garrick's Role In Season 3 [SPOILERS]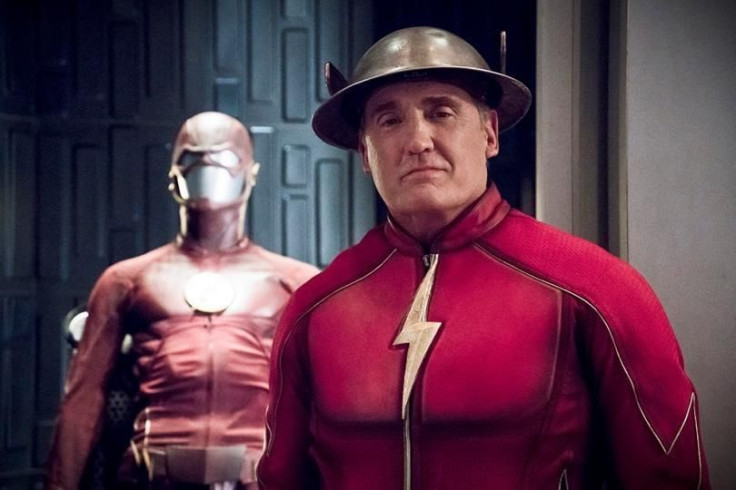 Barry (Grant Gustin) has a new mentor in Season 3 of "The Flash."
In an interview with Entertainment Weekly, John Wesley Shipp revealed that his character, Earth-3 Jay Garrick, is going to be an adviser of sorts to the Scarlet Speedster in the new installment of the CW series.
According to Shipp, Jay — being the keeper of the Speed Force — is going to intervene in Barry's decisions whenever necessary. In fact, the 61-year-old actor revealed that Jay is "real concerned" about Barry messing with the timeline.
"He's very concerned about the decisions that Barry is making," Shipp said of his speedster role. "He's very concerned about how that will reflect on his legacy as the guardian of the Speed Force, which is how Jay seems himself, the original speedster, the original Flash. He's very concerned about what Barry may or may not know about what he's about to do, and when that happens, Jay is going to intervene."
Shipp also said that Jay is going to help Barry take down Savitar, who is one of the show's two main villains this season.
"In Flash lore, Jay certainly knows who Savitar is and what Savitar is all about, and certainly there's going to be some overlap and conflict," the actor said. "Jay knows some things about Savitar that Barry doesn't know, and that would be very useful for Barry to know."
While Jay is definitely an ally, his relationship with Barry is very much different from the bond that the Scarlet Speedster shared with his late dad, Henry, who is also played by Shipp.
In an interview with Comicbook.com, Shipp said that Jay and Barry's relationship is "emotionally cooler" than the warm father and son bond that Barry and Henry had in the past two seasons of the CW series. Since Barry has already changed the past once for his own selfish reasons, Jay is not completely confident of Barry's competence as a superhero, Shipp said.
"The Flash" Season 3, episode 2, titled "Paradox," airs on Tuesday, Oct. 11 at 8 p.m. ET on The CW. Check out the synopsis for the episode below:
"Barry realizes the effects from Flashpoint are much greater than he thought. Meanwhile, Barry meets new co-worker Julian Albert (Tom Felton) and is surprised by Julian's immediate disdain for Barry."
© Copyright IBTimes 2022. All rights reserved.
FOLLOW MORE IBT NEWS ON THE BELOW CHANNELS