'The Flash' Season 3 Spoilers: What's The Reason Behind Iris And Joe's Estrangement?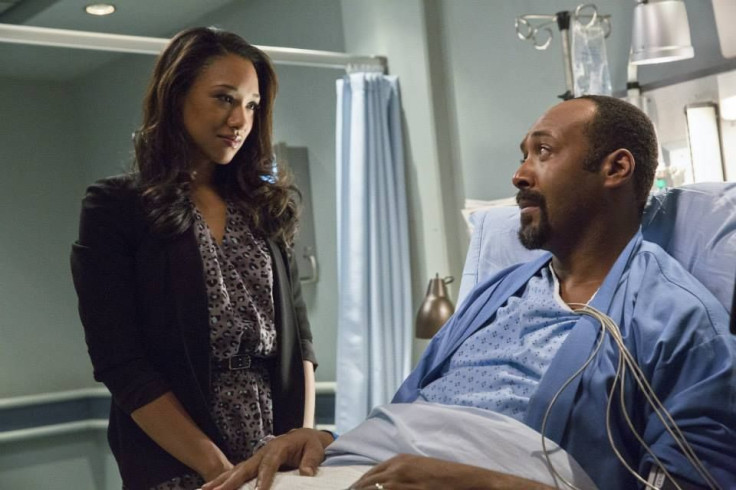 At the end of the Season 3 premiere of "The Flash," Barry (Grant Gustin) was shocked to find out that his recent time travel has affected Iris (Candice Patton) and Joe's (Jesse L. Martin) relationship. After asking the Reverse-Flash (Matt Letscher) to kill his mom again, Barry returned from the Flashpoint reality to the original timeline only to discover that Iris and Joe don't speak to each other anymore.
The reason behind the father and daughter's estrangement was not revealed in the episode, but Entertainment Weekly reported that the cause of the pair's rift is probably the same reason why Iris and Joe weren't in good terms in the Flashpoint timeline.
"The reason that Joe is the way he is when you see him is that he made a huge mistake with his daughter, with Iris," Martin teased to Entertainment Weekly at San Diego Comic-Con last July. "And it caused a huge rift between the two of them, and Joe doesn't think they'll ever get over it. It kind of sucks, it does, but it's fun to play."
Since Barry is technically the one to blame for the messed up relationship between Iris and Joe, Patton told TV Guide that Barry "is going to struggle with [it] and obviously he'll want to fix it in whatever way he can."
That task, however, won't be easy, as executive producer Andrew Kreisberg told Entertainment Weekly that some of the consequences of Flashpoint will "last throughout the season, and quite frankly, last throughout the series."
"That's one of the things that we're attempting to do," Kreisberg said, adding, "have the pitfalls of time travel be long-lasting and that some things can be fixed, and then some things are broken forever."
What do you think is the cause of Iris and Joe's estrangement? Share your thoughts in the comments!
"The Flash" Season 3, episode 2, titled "Paradox," airs on Tuesday, Oct. 11 at 8 p.m. ET on The CW. Check out the synopsis for the episode below:
"Barry realizes the effects from Flashpoint are much greater than he thought. Meanwhile, Barry meets new co-worker Julian Albert (Tom Felton) and is surprised by Julian's immediate disdain for Barry."
© Copyright IBTimes 2023. All rights reserved.