Flight Cancellations: What To Do If Winter Storm Juno Leaves You Stranded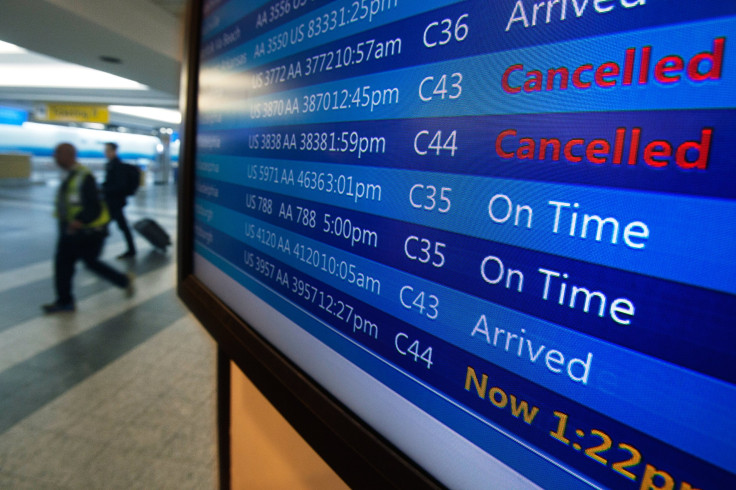 Air travel is expected to be difficult on Monday and Tuesday as a major snowstorm and cold weather pattern settle in over the Northeastern region of the U.S. Airlines have already reacted to weather forecasts by cancelling more than 3,550 flights Monday morning, USA Today reported. As of 6:15 a.m. EST, 1,851 scheduled flights had been grounded and another 1,707 flights scheduled for Tuesday had been grounded. About 20 flights for Wednesday were already cancelled in anticipation of the storm, nicknamed "Juno," that could dump up to three feet of snow on large swaths of the Northeast. Most of the cancellations were announced Sunday evening and other changes are expected throughout the week.
Before heading to an airport, follow the advice of travel experts and use your mobile devices to access airline information online. Websites such as "FlightAware" offer status information for multiple airlines. Many carriers have already announced plans to waive change and cancellation fees as well as flight fare differences for travel to the major airports in the region. Travelers who have already made it to airports are advised to seek out information at airline kiosks to learn what to do when an extended cancellation requires hotel accommodations and other arrangements. The blog "Stuck at the Airport" is compiling information for people who find themselves stranded.
United Airlines, the second-busiest carrier in the U.S., announced it may halt all of its Tuesday operations at several of the region's busiest airports, including New York's LaGuardia Airport and JFK International Airport and New Jersey's Newark Liberty International Airport. "We plan to operate a full schedule at our Washington Dulles hub on Monday, but we will limit operations beginning Monday evening at our Newark hub, LaGuardia and JFK," United said in a statement. "At this point, we plan to cancel all flights Tuesday at Newark, LaGuardia and JFK, as well as Boston and Philadelphia. We are waiving change fees that otherwise may apply, and most customers will find they can change their travel plans most quickly by visiting united.com."
U.S. Airways and American Airlines also planned to halt Tuesday operations at certain airports in the region. Delta Air Lines, which has hubs at LaGuardia and JFK, confirmed it had also grounded flights for Monday. In a statement posted to its website, JetBlue said customers can rebook cancelled flights through Friday, but "prior to the departure of their originally scheduled flight." The airline said more than a dozen airports that it services throughout the region would be affected.
© Copyright IBTimes 2023. All rights reserved.