Juno Blizzard Warning 2015: How Much Snow Will Northeast Get?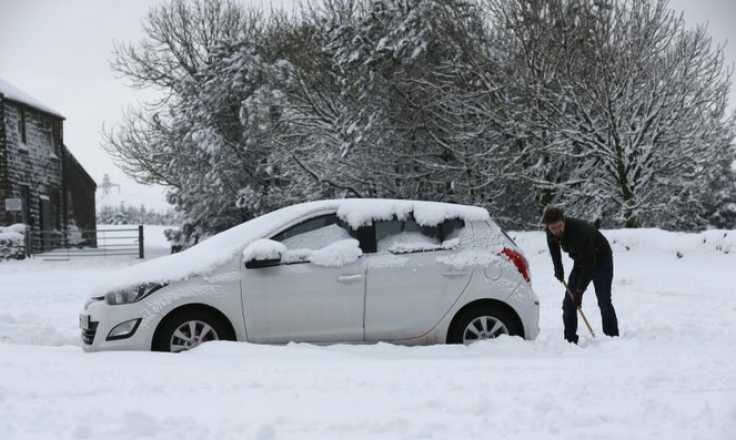 Juno is known as the Roman goddess of marriage -- or as Ellen Page's pregnant character from the 2007 film -- but now the epic name will be associated with the first heavy snowfall of 2015 if current forecasts turn out to be true. Winter Storm Juno could dump upward of 2 feet on the Northeast from Monday through Tuesday, the Weather Channel predicted. Blizzard warnings are in effect for southern New England, New York City and northeast New Jersey. Philadelphia was under a winter storm watch.
It isn't just the northeast that has to worry about Juno's potential wrath. The first major snowstorm of 2015 will also drop 1-3 inches of snow in the Midwest. There could be as much of 5 inches dumped on certain parts of Ohio.
But in Boston, Providence, Rhode Island, and Portland, Maine, residents could see 2 inches per hour of snow when the storm is at its peak Monday into Tuesday. "There's the potential for a significant snowstorm to impact the entire Northeast U.S.," meteorologist Patrick Maloit said, according to CBS News.
In places where there is a blizzard watch, travel conditions will be treacherous. There could be damaging winds and coastal flooding. "Travel may become impossible & life threatening," Massachusetts Emergency Management Agency cautioned in a tweet.
Residents in affected areas are urged to prepare in advance of the storm -- which the Weather Channel called "potentially historic." If anyone has travel plans for Monday night into Tuesday, they should probably be canceled, the weather site urged.
"This is going to be a big one, historic," Weather Channel coordinating meteorologist Tom Moore said, according to NBC News. "There could be paralyzing, crippling blizzard conditions. They're going to be talking about this one for a while."
Follow me on Twitter @mariamzzarella
© Copyright IBTimes 2023. All rights reserved.