Florida Coronavirus Cases Among Kids Surge 34% In 8 Days
KEY POINTS
Florida sees a 34% surge in the number of children testing positive for COVID-19 over an eight-day period
Gov. Ron DeSantis plans to reopen in-person school classes in the fall despite ominous signs for kids
Florida's latest child death is a 9-year-old girl who had no known pre-existing conditions
Facing a state-mandated school reopening amid the COVID-19 resurgence, Florida received some harsh marks in math concerning its children and the disease.
Already burdened with 424,000 confirmed COVID-19 cases and a 12.5% test positivity rate, Florida now has to contend with a 34% surge in the number of children testing positive for the disease in a span of only eight days.
The Florida Department of Health said 31,150 children ages 17 and under had tested positive for the coronavirus statewide as of July 24. The total stood at 23,170 since the beginning of the pandemic in February until July 16.
The report also revealed an increase in the number of children requiring hospitalization. As of July 16, 246 children had been hospitalized. The number ballooned to 303 by July 24, a spike of 23%.
Deaths among kids statewide rose from four to five during that same time span. The latest death was a 9-year-old girl who had no known pre-existing conditions. She is believed to be the state's youngest victim of COVID-19.
Another disturbing finding was the positivity rate among Florida children after an error in the FDH's numbers previously showed the figure at 31%. The corrected number was still cause for concern, rising a full point from 13.4% on July 16 to 14.4% on July 24.
The surge in cases, hospitalizations and positivity rates among children and the general population in the Sunshine State comes amid a raging debate over reopening in-person classes at all levels in the fall.
Florida Education Commissioner Richard Corcoran two weeks ago issued an emergency order mandating school districts open schools at least five days a week.
Gov. Ron DeSantis, R-Fla., previously said he believes there is enough evidence showing children are at low risk of catching and spreading the disease. DeSantis, however, later modified his view due to strong opposition from the state teachers.
The Florida Education Association, the largest teacher and education workers' union in the state, and concerned parents sued Florida, DeSantis and the Miami-Dade local government July 20 to delay a state order compelling schools to reopen in August.
FEA and the other plaintiffs accuse DeSantis of breaking a state law mandating "safe" and "secure" schools. The plaintiffs ask the 11th Judicial Circuit to issue an order giving local school superintendents and health departments jurisdiction over school reopenings.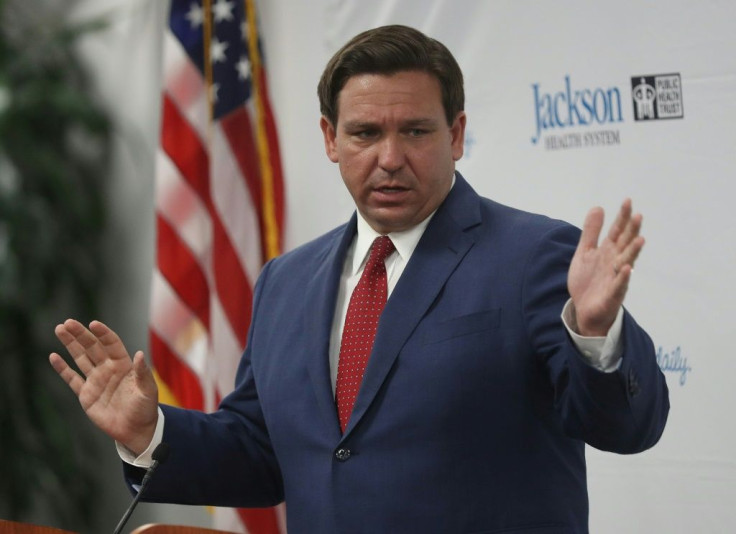 DeSantis backtracked two days later, saying Florida's public schools should allow parents the choice of what's best for their children. Parents can choose either in-person education or distance learning in the fall. DeSantis, however, did not rescind Corcoran's order.
Florida has the third highest number of COVID-19 cases in the U.S. after New York and California. It had a positivity rate of 12.5% as of Sunday. Epidemiologists agree community spread of COVID-19 can't be controlled if the positivity rate is above 5%.
© Copyright IBTimes 2023. All rights reserved.
FOLLOW MORE IBT NEWS ON THE BELOW CHANNELS