Florida Sinkhole Video: See The 60-Foot Hole That Evacuated A Tarpon Springs Mobile Home Park [PHOTOS]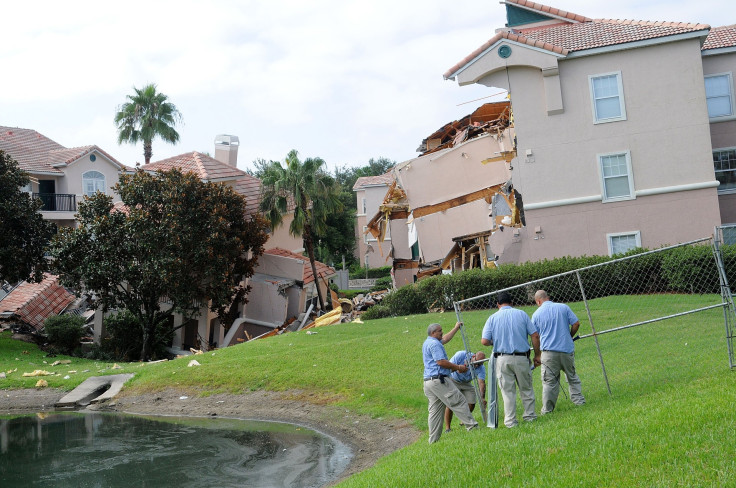 Residents in Tarpon Springs, Florida, were forced to evacuate Wednesday after a sinkhole more than 60 feet wide and 30 feet deep opened at their mobile home park. Nobody was injured, but officials were scrambling to remedy the situation, which included a broken sewer line that left the hole full of water, the Tampa Tribune reported.
The sinkhole, which may still be growing, opened as a crew was working to repair a nearby road.
"I was in my little shed, you know, and I heard a bunch of crunching and everything and I said, 'Well they started work over there already' and I walked out there, [and] about 20 foot of the fence was gone," resident Dave Haver told WFLA. "Big ol' hole. And I said, 'Uh, oh.'"
Sinkholes, which occur when bedrock dissolves, have become relatively common in Florida, especially along the west coast, according to the state's Department of Environmental Protection. Drought, heavy rains and construction can all exacerbate the issue.
Workers in Tarpon Springs, which is near Tampa, told ABC Action News they expected to have the broken sewer line patched by Saturday. That will stabilize the hole so further repairs can get underway. In the meantime, the area's water supply was turned off.
"Anytime you see a sinkhole like that across the street here, especially in Florida, tragedy has happened. So you want to get out there as quickly as possible to safeguard human life," Maj. Jeff Young with the Tarpon Springs Police told WDAM.
The Tampa Bay Times reported that six homes' worth of people — about 20 residents — were ultimately evacuated from the park. Emergency workers, as well as the American Red Cross, were helping them find shelter.
Resident Walter Cooper told FOX 13 he was relying on religion to help him through the natural disaster. "Well, I put my faith in the Lord Jesus Christ — you'll take care of us if we lose our home, will have to find another one," he added.
© Copyright IBTimes 2023. All rights reserved.