The Flying Tigers Soar Again -- At A Remote Restaurant In China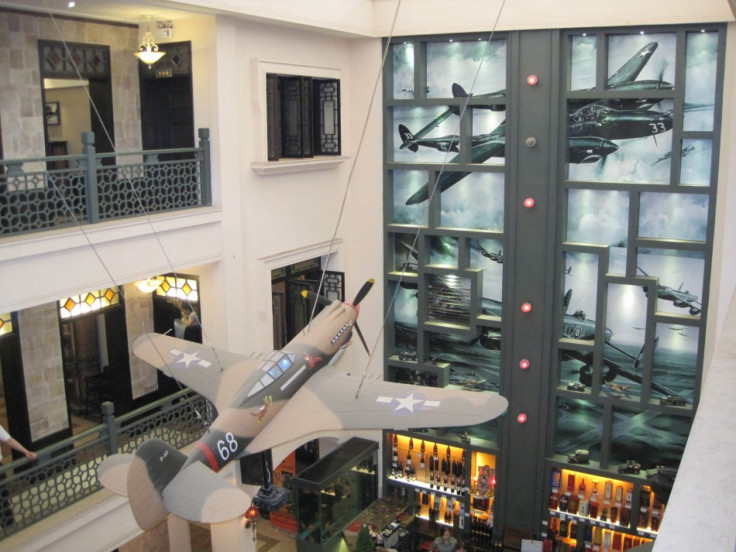 KUNMING, China -- An off-the-map city in southwestern China is the last place where you would expect to find a restaurant commemorating American fighter pilots from World War II.
Yet Kunming, in Yunnan province, hosts the Flying Tigers Restaurant, a tribute to American volunteer fliers. Though the Flying Tigers disbanded 70 years ago Wednesday, on July 4, 1942, they remain a legend among WWII buffs. The restaurant is even more of an oddity given China's tumultuous modern history; countless historical relics were destroyed or lost during the Maoist years, and even portions of the Great Wall were not spared. Yet the Flying Tigers Restaurant remains, a tribute to the days when the U.S. and China, so frequently viewed today as vying superpowers, were allies.
As Japan marauded through Asia in 1941, a former U.S. colonel working as a civilian flight instructor, Claire Lee Chennault, came up with a novel idea: a fighter group made up of ex-military American volunteers to be stationed in China. President Franklin D. Roosevelt approved the plan. The pilots' mission was simple: to be a thorn in the side of the Japanese, who had already occupied vast swaths of China and Southeast Asia. The United States was not at war with Japan, but that would come soon, in December of that year, after the attack on Pearl Harbor.
Recruiters for Chennault went around U.S. bases wooing pilots, who resigned their commissions with the U.S. military and instead went to fight for China as mercenaries. The bonuses per each Japanese kill, offered by China, were only one incentive. Pilots signed up for various reasons, including better pay, an avenue out of unemployment and debt, the idea that fighting the Japanese was better than fighting the Germans and the lure of adventure and the wild blue yonder.
Whatever the pilots thought they would find in China, war came to them anyway, making them legends not only in Kunming but throughout the world. As Beijing fell under Japanese attack, nationalist leader Chiang Kai-shek and millions of refugees fled west to Kunming and Chongqing, in Sichuan province. On Dec. 20, 1941, just 13 days after Pearl Harbor, an alert system invented by Chennault reported 10 Japanese bombers crossing into Yunnan. The Flying Tigers took off in their Curtiss P-40 Tomahawks, sporting Chinese markings, to find and intercept the bombers.
By the end of the day, the mercenary pilots had taken out four Japanese bombers, damaged seven more and killed 14 Japanese airmen, as the story is told in Daniel Ford's chronicle, Flying Tigers: Claire Chennault and His American Volunteers. Chennault told his pilots previously if the Japanese suffered 10 percent losses in an attack, they would go home and reconsider future raids -- 25 percent losses, and they'd quit assaulting Kunming altogether. And so it was. Though the Japanese had bombed Kunming for a year, the Flying Tigers proved an effective deterrent, driving away the enemy permanently. The Flying Tigers lost only a single aircraft, which had run out of gas on its way home.
The Flying Tigers carried out several other such legendary feats -- almost always vastly outnumbered -- before finally disbanding on July 4, 1942.
Yet the Tigers' legacy lives on, inside the restaurant and out. Today, the city safeguarded by the Flying Tigers is growing at a rate of 25,000 people a year, according to official statistics. Kunming's Flying Tigers Restaurant symbolizes that expansion. Wealthier residents are looking for new experiences, and entrepreneurs are willing to provide one.
Manager Xuzi Yi said the building, wartime home to Chennault and his Chinese wife Anna, opened as a restaurant in 2010. A plaque near the entrance calls the building The Flying Tigers House. The building was used as a ticketing office for Chennault's commercial airline after the war, said Sun Guangsheng, president of the Yunnan Flying Tigers Research Institute. Sun was quick to note that despite what the restaurant's name and decor implies, the building never actually housed Flying Tiger pilots or their operations.
What the restaurant's re--creation of Kunming's war days lacks in accuracy, it makes up in presentation. Its long entrance is decorated with cases full of memorabilia, photos of Chennault, warplanes, and the Walt Disney-designed logo of the mercenary group: a cartoon tiger with small blue insect wings flying through a blue V for victory. The staff wears mock-military uniforms, greeting diners with a salute and "huanying guanglin," a common Chinese greeting to customers.
A scale-model of a Tomahawk hangs from an immense skylight in the four-story hall. The walls are mosaics of the Flying Tigers and Chennault. Behind the bar rise huge photos of aerial combat. Flatscreen TVs show old war movies while patrons dine on gourmet Chinese cuisine. War relics sit on display below glass cases -- with price tags, for the especially eager WWII enthusiast.
The Yunnan Flying Tigers Research Institute doubts that these artifacts are real. Sun said they were probably made in Chinese shops. That's certainly conceivable in forgery-rich China, where the country's emerging capitalism has suspiciously made real Ming Dynasty vases and other allegedly historic kitsch available in tourist shops nationwide.
But trinkets and inaccuracies aside, the Flying Tigers undoubtedly made an impact in Yunnan, as marked by monuments above and graves below Chinese soil. It is difficult to speculate what Kunming would be like without the small band of pilots who had no idea what they were getting into. Sun didn't want to guess at present-day Kunming minus the Flying Tigers, but matter-of-factly said the pilots slowed the Japanese bombing of China and Burma.
What we do know is that without the heroics of the Flying Tigers, there wouldn't be a John Wayne movie of the same name -- and neither would there be a strange, American-themed restaurant in a faraway corner of China.
Taylor Collins is an Asia-based freelance writer.
© Copyright IBTimes 2023. All rights reserved.
FOLLOW MORE IBT NEWS ON THE BELOW CHANNELS