Foss Lake Bodies: Oklahoma Cops Find Six Bodies After Pulling Two Cars From Lake; Could Be Linked To Decades-Old Cases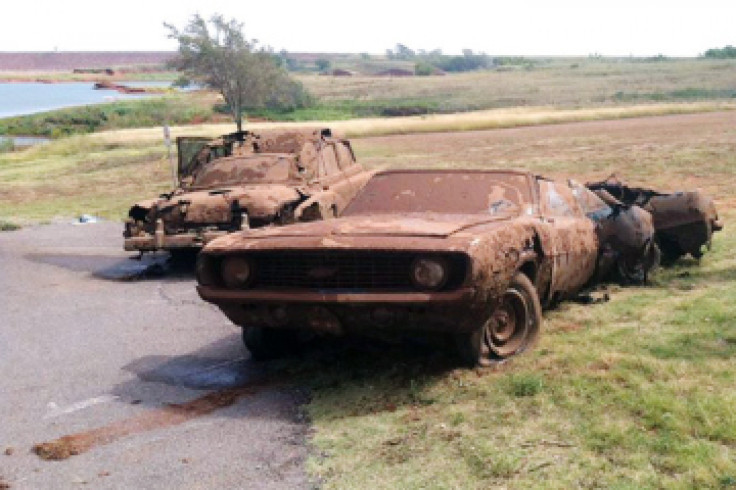 Authorities in Oklahoma uncovered six bodies pulled from two separate cars in a lake on Tuesday. The bodies are believed to be the key to cracking two cold cases dating back several decades. According to the Daily Elk Citian, the two cars were found in Foss Lake in western Oklahoma.
One vehicle, a Chevrolet sedan, is linked to the disappearance of a group of people from the town of Canute in the late 1950s or early 1960s.
"The first car, there was a rumor I heard in the early 1970s when I came here as a trooper, that there were some individuals, two or three from Canute, headed to Foss Lake," said Custer County Sheriff Bruce Peoples. "They were never seen again. That is the only lead we have on that."
The other car is a blue 1969 Chevrolet Camaro belonging to a 16-year-old teenager named Jimmy Allen Williams. Williams and his two friends, Thomas Michael Rios, 18, and Leah Gail Johnson, 18, were last seen on Nov. 20, 1970, driving around the town of Sayre, according to the Daily Citian.
"The second vehicle is tentatively identified as the car with the missing juveniles from the Sayre area," Peoples said.
Authorities are working on identifying the skeletal remains found in the cars, but as CNN points out, that could take years.
"Scientific identification of these remains will be attempted using anthropological and if necessary, forensic pathological methods," Amy Elliott from the medical examiner's office said in a written statement. "Depending on the features of these remains and their state of preservation, identification can take anywhere from days to years. In some cases, if the DNA is degraded, positive identification using scientific means may not be possible. This is a very detailed and meticulous process that may take some time."
According to Fox News, Betsy Randolph of the Oklahoma Highway Patrol told the Associated Press the discovery of the remains will provide some long-awaited answers to the families of the victims.
"We're hoping these individuals, that this is going to bring some sort of closure to some families out there who have been waiting to hear about missing people," she said. "If that's the case, then we're thrilled we were able to bring some sort of closure to those families."
© Copyright IBTimes 2023. All rights reserved.