Fourth Stimulus Check Update: Everywhere New Aid Is Coming
Though some small relief has come in recent days with a slight decrease in average gas prices, the weight of record inflation is still heavy on many Americans' minds and wallets. However, in some states, some relief is expected to arrive in the coming weeks and months, which may make things seem a little bit easier in the form of temporary relief.
Though some have argued that stimulus checks are actually partially responsible for the outrageous rise in inflation that has plagued Americans since the end of 2021 and only gotten worse in 2022, others have also felt that another round of checks could be beneficial to those struggling and feeling the effects of higher prices the hardest, since the checks did work to help pull many out of poverty during the COVID-19 Pandemic. The federal government doesn't seem to be making any plans to pass any other stimulus aid packages which include direct payments to Americans, but that isn't stopping some states from targeting ways to find relief.
Here's which states are providing some forms of relief:
California
In the state where gas prices have been hovering in some areas at more than $7.00 per gallon, residents will see relief come October thanks to a new round of "inflation relief" checks Governor Gavin Newsom announced as part of a $308 billion state budget this week, CBS reports. The checks are also part of a $17 billion relief package that is set to suspend the state's sales tax on diesel fuel and also provide additional aid to help those struggling to pay rent and utility bills.
Colorado
Governor Jared Polis signed a bill in late May that promised payments of at least $400 to taxpayers in September. While the exact amount was dependent on state revenue totals, every full-time resident of the state who filed a 2021 tax return before June 30 would qualify.
Delaware
Residents of the state started receiving "relief rebate" payments of $300 due to a budget surplus.
Georgia
Due to a state budget surplus, state residents who filed both 2020 and 2021 tac returns can receive extra rebate payments based on their tax filing status. Amounts range from $250 maximum rebate for single filers to $500 maximum refunds to married couples filing jointly.
Hawaii
Payments are expected to begin processing in late August for a tax rebate that is set to go to every taxpayer in the state of Hawaii. Those who earn less than $100,000 per year will receive $300, while those earning more than $100,000 per year will receive $100.
Idaho
Those who are full-time Idaho residents and filed either 2020 and 2021 tax returns or grocery-credit refund returns were eligible to receive either a check for $75 or 12% of their 2020 Idaho state taxes, depending on which amount was greater. The rebates, which began in March, are applicable to both individual taxpayers and each of their dependents.
Illinois
It's unclear when payments will go out, but Illinois passed a round of rebate checks for state taxpayers in the budget back in April. Those rebates are set to be $50 per individual with an additional $100 per eligible dependent, up to three kids per family,
Indiana
In May, Indiana state residents who filed their 2021 tax returns were eligible for a one-time $125 tax refund. Some received payments then, while others are expected to continue through mid-summer. No income requirement was attached to these refunds.
Governor Eric Holcomb also recently announced a plan that would provide an additional $225 to taxpayers, but those have not yet been passed by the state legislature.
Maine
Full-time residents of the state started seeing direct relief payments of $850 beginning in June if they had a federal adjusted gross income of less than $100,000. The refunds were a part of the state's surplus, and a supplemental budget also included an increased benefit for Maine's earned income tax credit recipients as well.
Minnesota
Frontline workers who worked at least 120 hours in the state between March 15, 2020, and June 31, 2021, and were not eligible for remote work are receiving a one-time payment of $750. Those who worked with direct COVID-19 patient-care responsibilities must have had an annual income of less than $175,000 between Dec. 2019 and Jan 2022, while those without must have had an income of less than $85,000 annually.
New Mexico
Come July, residents who filed a 2021 state tax return and earned under $75,000 annually (or under $150,000 for joint filers), will receive a rebate of $250 (or $500) beginning in July. An additional rebate for all taxpayers is also being sent in two different rounds of payments. The first, in June, was the first half of either a $500 single filer payment or a $1,000 joint filer payment. The second portion is expected to arrive in August.
New York
Homeowners in New York State received an unexpected surplus of cash at the end of June thanks to a new round of state property tax rebates. Those with a 2020 income tax year household income under $250,001, qualified for a 2022 STAR credit or exemption and had a school tax bill for the 2022-20223 academic year that was greater than the STAR benefit, were eligible to receive various checks in amounts ranging from $182-$1,650. The checks, which were originally scheduled to be distributed during the Fall, were moved up by Gov. Kathy Hochul, who cited rising gas prices and inflation as a reason for moving things up.
South Carolina
Details regarding a disbursement date or income restrictions have not been released, but a budget plan in June for the state did earmark $1 billion for a tax rebate that would provide a one-time payment of up to $800 to those who are eligible.
Virginia
Residents of the state will receive a tax rebate somewhere in September or October, if eligible, thanks to a one-time rebate approved in June. Those rebates will be in amounts of $250 per taxpayer or $500 for couples filing jointly.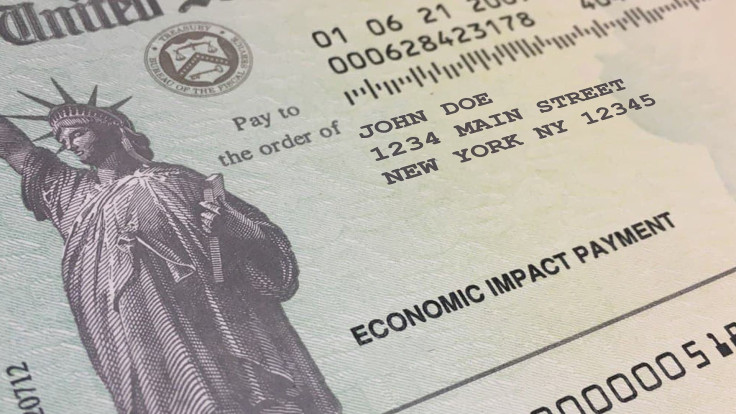 © Copyright IBTimes 2023. All rights reserved.