Fox GOP Debate Live Stream: Watch Donald Trump, Ted Cruz And Other Candidates In Cable Network's Free Broadcast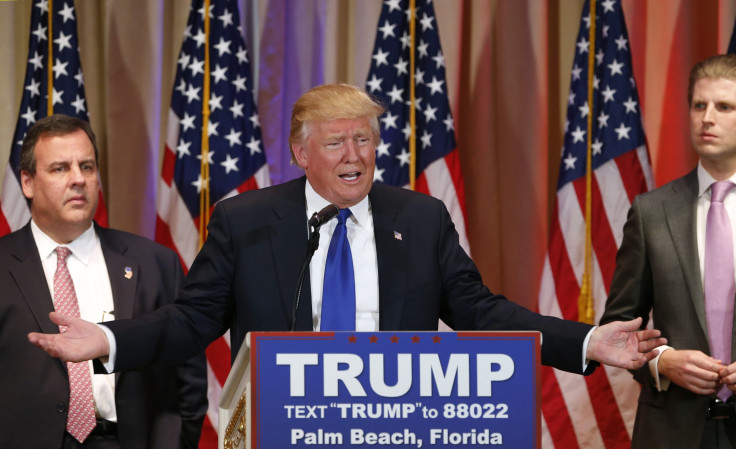 After winning Super Tuesday races in Alabama, Arkansas, Georgia, Massachusetts, Tennessee, Vermont and Virginia, Donald Trump has emerged as the Republican front-runner the party's establishment can no longer ignore. Trump will again take to the stage in yet another election season debate Thursday night in Michigan.
The Fox News debate at Detroit's historic Fox Theater will be available to live-stream online for free here, with questions for the candidates beginning at 9 p.m. EST. Fox News anchors Megyn Kelly, Bret Baier and Chris Wallace will moderate for the third time this election season.
Trump will be joined by challengers Texas Sen. Ted Cruz, Florida Sen. Marco Rubio and Ohio Gov. John Kasich. Retired neurosurgeon Ben Carson announced Wednesday he would skip the debate and is scheduled to deliver remarks on his political future Friday, when he will likely suspend his presidential campaign.
The debate could be a key moment for remaining candidates after Trump's strong Super Tuesday showing. In Massachusetts, the New York businessman won with the largest margin of any state with 49 percent support compared with Rubio's 18 percent support in a distant second place.
"I am a unifier; I know people are going to find that a little bit hard to believe, but believe me that I am a unifier," Trump said Tuesday evening. "Once we get all of this finished, I am going to go after one person — that's Hillary Clinton."
Cruz has come closest to challenging Trump, winning Super Tuesday races in Alaska, Oklahoma and Texas. Rubio only had one victory on Super Tuesday with a win in Minnesota, while Carson and Kasich both came up empty-handed. Trump leads the delegate count with 316, followed by Cruz with 226, Rubio with 106 and Kasich with 25. The first candidate to win 1,237 delegates has historically been announced the party's nominee.
The candidates will face a packed crowd in Detroit, with over 21,000 people requesting tickets to the debate from the Michigan Republican Party, the Detroit News reported. Thursday evening's debate in Michigan comes before the state's Republican primary on March 8. Hawaii, Idaho and Mississippi will also head to the polls that day.
© Copyright IBTimes 2023. All rights reserved.