French Jews Plan Exodus To Israel After Paris Terror Attacks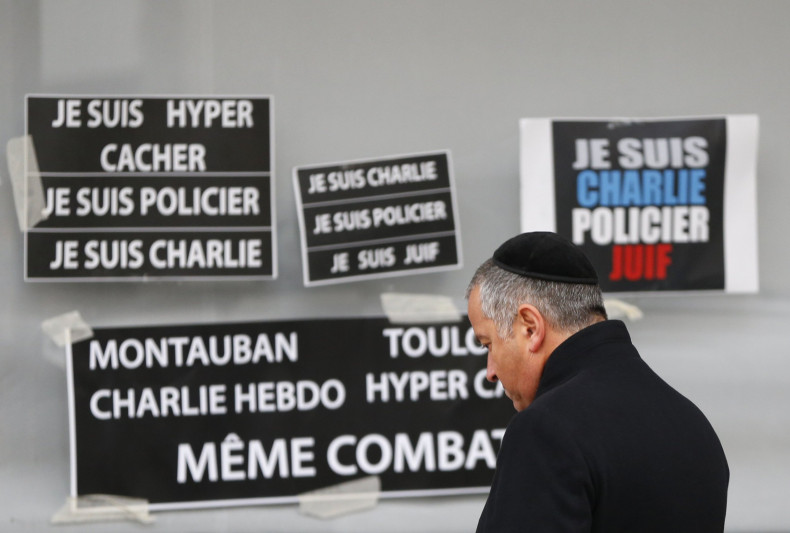 In the wake of three deadly attacks in Paris last week -- one of which targeted a kosher supermarket -- French Jews are thinking about leaving the country. "Every single French Jew I know has either left or is actively working out how to leave," Stephen Pollard, editor of the British Jewish newspaper the Jewish Chronicle, tweeted on Jan. 9.
Israel
Yohan Cohen, one of the hostages at the kosher supermarket, says he plans to leave for Israel as soon as possible. He hid in the market's fridge for five hours during the siege on Friday.
"On Monday I am going to make aliyah," he told Israel's Channel 10 TV Saturday. "We are not going to wait around here to die."
The Jewish exodus out of France and parts of Europe stems from a rising tide of anti-Semitism that has swept the region over the past couple years. The 17 people killed in Paris last week follow violent protests during the Israel-Gaza conflict last summer and anti-Semitic acts, including the rape and robbery of a 19-year-old Jewish woman in Paris, the popularity of the backward Nazi salute "quenelle salute" and the death of a rabbi, three children and three paratroopers at a Jewish school in Toulouse in 2012.
Last year about 7,000 French Jews immigrated to Israel, more than any other country in the world. About half that amount moved to Israel the year before. The country expects about 10,000 new immigrants from France next year, Natan Sharansky, head of the Jewish Agency for Israel, told Reuters on Friday.
In an earlier interview, Sharansky noted how the Jewish Agency for Israel is hosting two information sessions a day in France on immigrating to Israel. A year ago the agency held one a month, he told the Jerusalem Post on Jan. 6. He says some choose to move within the European Union or to Montreal, but an "overwhelming majority" decide to immigrate to Israel.
"Here you have for the first time, a clear thing," Sharansky said. "There is a massive exodus from a community in the free world, which has all the doors open to them, and they are choosing Israel."
French-Speaking Canada
Montreal, the second-largest city in Canada's French-speaking province Quebec, has also become an option for French Jews. While statistics do not exist on how many French Jewish immigrants have crossed the pond, anecdotal evidence points to a growing community.
"I wouldn't say it's a huge number of [French Jewish immigrants]," Monique Lapointe, director of Agence Ometz, Montreal's primary Jewish social services and resettlement organization, told the Jewish Telegraph Agency on Dec. 1. "But it's a trend. We'll be anticipating more."
Language, Quebec's secular culture, relatively cheap cost of living and job opportunities are among the reasons why French Jews have decided to move to Quebec. According to a survey conducted by Agence Ometz, anti-Semitism and the desire to practice Judaism openly was one of the major reasons why Jewish French families moved.
"We wanted a place with a strong Jewish community, with Jewish schools, a place you can practice freely, where you feel safe," Julie Weill, 31, who left France five years ago, said.
Remaining In France
In a speech made at the Grand Synagogue in Paris on Sunday, Israeli Prime Minister Benjamin Netanyahu said European Jews would be welcomed with "open arms" if they chose to emigrate to Israel. But French Prime Minister Manuel Valls said that is not what France wants.
"If 100,000 French people of Spanish origin were to leave, I would never say that France is not France anymore. But if 100,000 Jews leave, France will no longer be France. The French Republic will be judged a failure," Valls told The Atlantic in an interview conducted before the Charlie Hebdo and kosher supermarket massacres but published on Jan. 10.
"The choice was made by the French Revolution in 1789 to recognize Jews as full citizens," Valls said. "To understand what the idea of the republic is about, you have to understand the central role played by the emancipation of the Jews. It is a founding principle."
To this end, France has deployed 10,000 troops to protect Jewish institutions in wake of the attacks. Nearly half of the deployed soldiers will be posted at the country's 717 Jewish schools, French Defense Minister Jean-Yves Le Drian said. Jewish communities across Europe have enacted similar measures, heightening security at synagogues, schools and businesses.
France has the third-largest Jewish population in the world, with about 500,000 Jews throughout the country. France is also home to a large Arab population. The Israel-Gaza conflict last summer and the rise of the Islamic State group in Iraq and Syria has fueled a new form of anti-Semitism driven by radical forms of Islam as well as a handful of misguided political reactionaries. According to the Ministry of the Interior, anti-Semitic threats have doubled since last year.
"This new anti-Semitism comes from the difficult neighborhoods, from immigrants from the Middle East and North Africa, who have turned anger about Gaza into something very dangerous," Valls said. "Israel and Palestine are just a pretext. There is something far more profound taking place now."
© Copyright IBTimes 2022. All rights reserved.