'Fuller House' Gets Season 4 Renewal: 4 Things We Need To See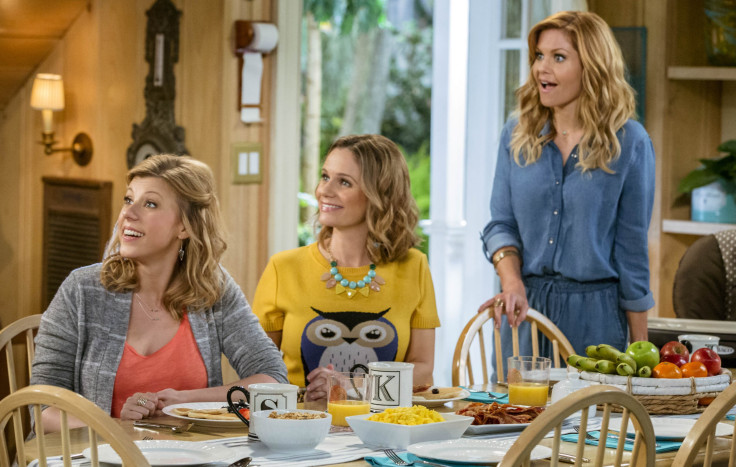 "Fuller House" has officially been renewed for a fourth season, International Business Times has confirmed with Netflix. The sitcom premiered the back half of Season 3 in December and fans have been waiting to hear news about new episodes, and now they can rest easy because the Fuller-Tanner-Gibler families will be returning for Season 4.
After the way the last episode ended, we can expect a lot of craziness from the new installments, but there are a few things in particular we really need to see.
1. Kimmy Gibler pregnant
It was revealed in the Season 3 finale that Kimmy (Andrea Barber) was officially pregnant with Stephanie (Jodie Sweetin) and Jimmy's baby, which will make for a very interesting storyline. We want to see the whole pregnancy and not just skip over the nine months. How will this affect Kimmy's relationship with her daughter and Fernando (Juan Pablo Di Pace)? And, more importantly, what will her maternity fashion look like and what cravings will she have?
2. More Tommy and Pamela screen-time
It's been three seasons and fans have barely seen Tommy (Dashiell and Fox Messitt), but now that the actors who play him are getting older, hopefully they can do more with the character. Plus, his cousin, Pamela (Madilynn and McKenzie Jefferson), is moving to San Francisco with her parents Jesse (John Stamos) and Becky (Lori Loughlin), and we already know that they have a lot of fun playing together, so it's likely that we'll get to see more of that.
3. Joey's kids behaving better
With Joey (Dave Coulier) moving to town with his misbehaving daughters, it will get old real fast if they are just messing things up in every episode. It's fine for a couple scenes, but, hopefully, being around the better-behaving children on the show will help them out.
4. New Job for Danny
Now that Danny (Bob Saget) is without a job, perhaps he'll find a new one that he enjoys, too. He could just retired, but it would be more fun to try to see him be involved in the newly-repurchased Smash Club and try to manage it perhaps with Jesse and Joey, causing arguments along the way.
"Fuller House" Season 3 is now streaming on Netflix.
© Copyright IBTimes 2023. All rights reserved.