Fully Vaccinated People Can Still Spread Omicron, CDC Confirms
KEY POINTS
The Omicron variant spreads more easily than the original COVID-19 strain
It is unclear how well masks can prevent Omicron infection
The new variant accounts for 59% of all COVID-19 cases in the US
Fully vaccinated people can more easily spread the highly mutated Omicron COVID-19 variant compared to the original strain, experts for the Centers for Disease Control and Prevention said.
"The Omicron variant likely will spread more easily than the original SARS-CoV-2 virus and how easily Omicron spreads compared to Delta remains unknown," the CDC said in a report published Dec. 20.
"CDC expects that anyone with Omicron infection can spread the virus to others, even if they are vaccinated or don't have symptoms."
But while vaccinated people can spread the Omicron variant, the CDC still encourages people to get the COVID-19 vaccine to prevent severe illness, hospitalizations and death in case of an infection.
As for masking, it is still unclear how well face masks can stop the spread of the Omicron variant. Dr. William Schaffner, a professor of health policy and infectious diseases at the Vanderbilt University School of Medicine, suggested that masks may not be enough to stop the viral particles of the Omicron variant.
"Omicron produces more virus, even than delta," Schaffner told Health. "So, the masks' capacity to interrupt or reduce transmission back and forth is likewise reduced."
The B.1.1.529 Omicron variant was first discovered in South Africa in November. The new strain has since accounted for roughly 59% of all COVID-19 cases in the United States as of Dec. 25, a significant decrease from the agency's previous estimate of 73%.
The agency said the disparity between the figures was due to the rate at which the Omicron variant spreads. Experts said the new estimate of 59% will likely be revised over the coming weeks and are likely to become more accurate as more data about the variant is collected.
The U.S. is now reporting a seven-day average of 254,496 new cases on Tuesday, breaking a previous record of 251,989 daily cases reported in early January. The country also hit a new record-high of daily cases on Monday after health officials reported 512,553 new infections.
Since the beginning of the pandemic, the U.S. has recorded a total of 52,793,407 COVID-19 cases and 818,371 deaths, according to data from Johns Hopkins University.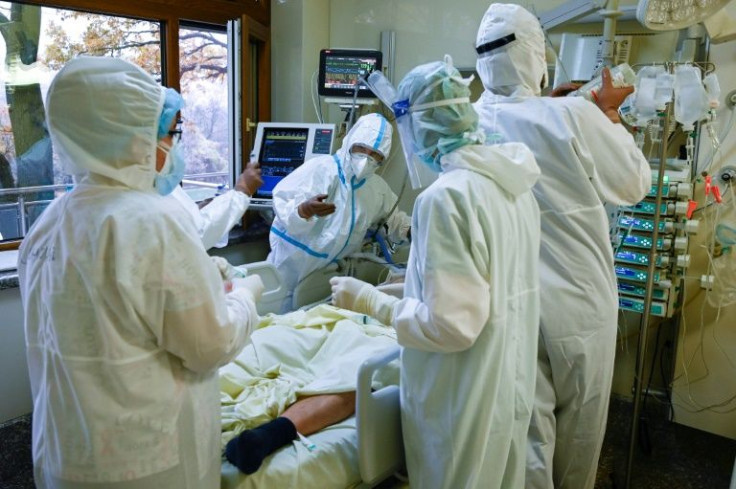 © Copyright IBTimes 2023. All rights reserved.