Funeral Of Slain Utah Couple Streamed Online Amid Stay-At-Home Order
KEY POINTS
The funeral for Tony and Katherine Butterfield was streamed online in accordance to Utah's stay-at-home order
The service only allowed a small group of family members to attend the funeral in person
Tony and Katherine were killed on April 18 by an intruder who allegedly forced his way inside the couple's house
Suspect Albert Enoch Johnson was identified two days after the crime and arrested Wednesday
Family members and loved ones bid their last farewell to the Utah couple who were murdered three weeks ago in a solemn ceremony that was streamed online following the state's stay-at-home order to prevent the spread of COVID-19.
31-year-old Tony Butterfield and her wife, 30-year-old Katherine, were finally laid to rest Saturday at Herriman City Cemetery. The service followed Utah's preventive measure, allowing only a small group of family members to attend the funeral in person and was streamed online for friends and loved ones.
During the service, Tony and Katherine were remembered as "loving parents" to their three children, age 4 and younger, and as a couple who loved to make others laugh.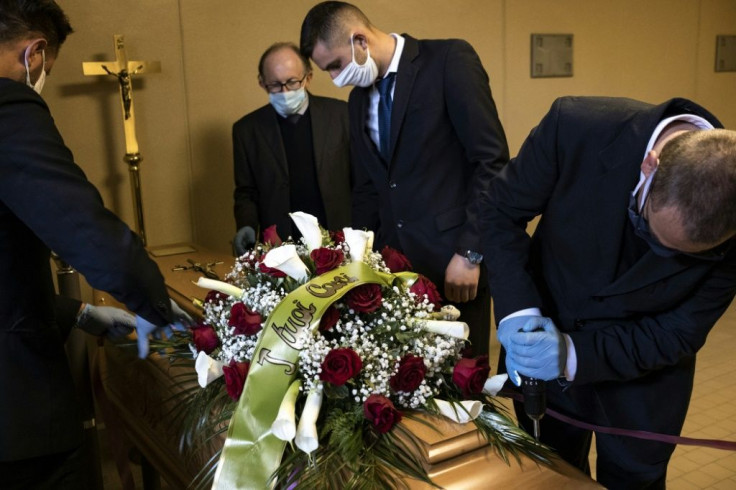 "In their home, they experienced creativity, hard work, along with a lot of cuddling and demonstrations of love," Katherine's brother, Cameron Crane, told reporters, through Deseret.
Her sister, Annelisa Sohn on the other hand, described Katherine as a "tough girl" who braved the birth of their children. Sohn recalled that her sister needed "little assistance" when she gave birth to their youngest.
"Having a new baby didn't slow Katherine down at all. She was up and at it almost immediately," Sohn said.
Tony, who own a landscaping business, was nicknamed "T-Money" for his ability "to save money to take care of his family," said Katherine's sister, Emily Hurst. Despite this, Tony taught his children the value of working and constantly reminded them on how much he loved them.
The Butterfields were killed on April 18 in their home after an intruder who, according to West Jordan Police, woke the couple.
Authorities said they found Tony in the backyard while Katherine was near their front door. All three of their children were sleeping in their upstairs bedroom when the crime happened, said FOX News.
Albert Enoch Johnson was identified by police as the suspect two days after he killed the couple. He was arrested last Wednesday (April 22) on murder charges.
Police said the 31-year-old Johnson tried to escape during his arrest. He was also believed to have been injured during a struggle with Tony.
Johnson's wife, 29-year-old Sina Anne, told police that his husband "was familiar" with the couple and their business after attempting to "obtain a job with their company at one point."
FOX 13 Salt Lake City meanwhile reported that Sina Anne threw away Albert's blood-stained clothes, shoes and sheet police believed to be involved in the crime. She also admitted on cleaning their apartment because of the blood "downstairs on the hallway walls, and in the bathroom."
Sina Anne was also arrested and charged with obstruction of justice.
© Copyright IBTimes 2023. All rights reserved.