Funny girls rule fall TV season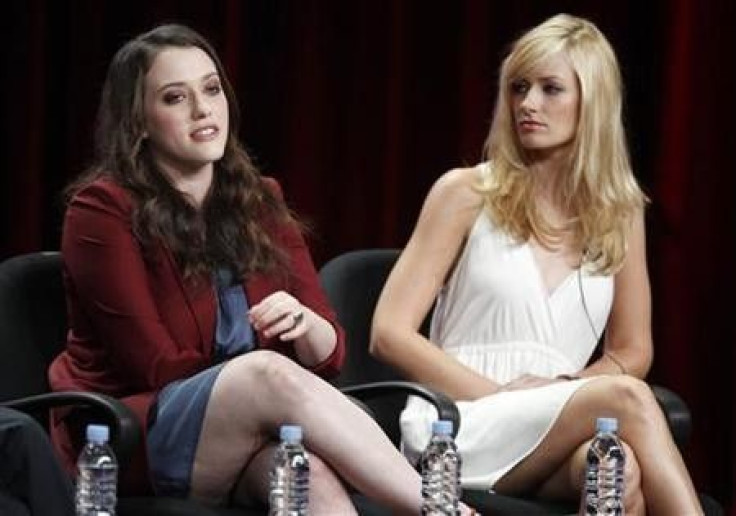 It's a watershed season for funny girls on TV, with female comedy talent dominating the airwaves in front of and behind the camera.
From Zooey Deschanel's New Girl to 2 Broke Girls with Kat Dennings and Beth Behrs, to Suburgatory's Jane Levy, these new sitcoms have found immediate traction and lightning-quick full-season orders, driven by the compelling comic charms of their lead actors.
Creative forces have emerged -- notably, 29-year-old Whitney Cummings, who is not only executive-producing her own self-titled starring vehicle on NBC, but also co-created 2 Broke Girls.
With a number of strong female comedy forces hitting prime time the last few seasons -- Tina Fey, Amy Poehler, Melissa McCarthy and Jane Lynch, just to name a few -- longtime tube watchers might recall the heyday of funny ladies like Carol Burnett, Mary Tyler Moore and Lily Tomlin decades ago.
But have funny girls ever ruled TV quite like this?
The women in these shows are allowed to be funny women, says Liz Meriwether, creator and executive producer of Fox's New Girl. There have always been funny women on TV, obviously, it's not like we're breaking ground. But I feel like, on these new shows, women are the central focus, the central comedic focus. They're not just playing the foil or the straight man.
That was really important to Zooey when we started the show, added Meriwether, who also wrote the script for the Ashton Kutcher/Natalie Portman dramedy No Strings Attached. She was like, 'I don't want to be the straight man or the one who's bringing everyone down to earth all the time.' The female characters are the ones generating the jokes, and I think that's true on all the new shows, and that's really cool.
Over the summer, Saturday Night Live stalwart Kristen Wiig made a rather revelatory splash in the motion picture business, when the R-rated comedy she co-wrote and starred in for Universal, Bridesmaids, became an unlikely box office smash.
But while that inevitably shifted movie-business talk to more raunchy features starring female comedians, the onslaught of quirky, profane -- and, yes, quite raunchy -- chicks on the tube this fall has been even more pronounced.
Emily Spivey, a former SNL and Parks and Recreation writer who created NBC's new Wednesday night Christina Applegate comedy Up All Night, said the trend probably has a lot to do with television's largely female audiences relating strongly to the characters.
What inspired me to write ('Up All Night') was that I just felt like there were a lot of funny ideas about a couple waiting until later in life to have a baby; a woman who has always put her career first, Spivey said. I felt like there was a whole area of stories that hadn't been touched upon.
I was just trying to write something that I would like to see on television -- a strong, funny lady like Christina, who's having to be vulnerable with balancing a career and a baby, she added. I just hadn't seen anything that dealt with it in a way that I wanted to see.
Certainly, the women of primetime network comedies are talking more frankly, like real women, these days, too. No topic seems to be off limits, from Whitney and her dress-up sex games, to a Broke Girls joke about a customer's behavior making waitress Max's vagina dry up.
The word vagina, as Bill Carter noted recently in the New York Times, is in fact having a breakout season of its own in primetime.
Bridesmaids is getting some of the credit for this.
Maybe because of 'Bridesmaids' there's kind of a feeling in the air that people want to see women being funny and ballsy, Spivey says.
Meriwether pointed out that, having made so much money, it probably gave some executives assurance that this kind of movie worked ... that women being funny has mass appeal.
However, both Meriwether and Spivey agree: good comedy is just good comedy, regardless of gender.
I feel like I've read this quote from Tina Fey a lot, where she's like, 'I hope we can get to a place where people aren't talking about (the shows) as female comedy, but just as comedy,' Meriwether said. I think you ultimately want to get to that place.
© Copyright Thomson Reuters 2023. All rights reserved.