'The Future is Female': Watch Hillary Clinton's Video Message At MAKERS Conference For Women Leaders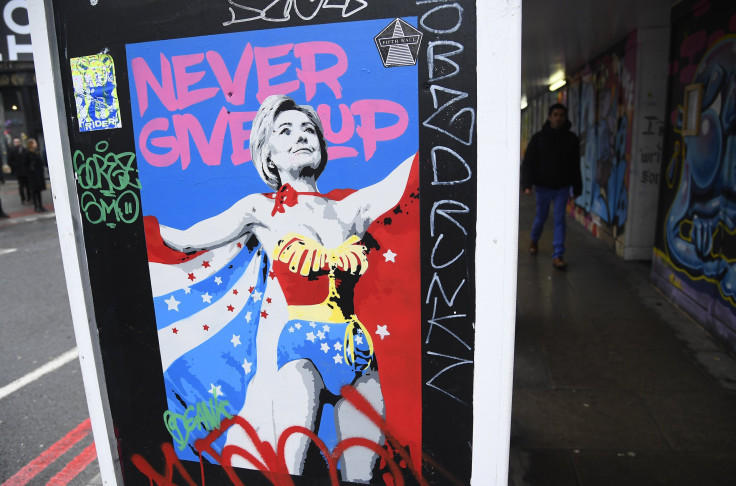 Hillary Clinton urged women to keep fighting this week, because "despite all the challenges" she remains "convinced that yes, the future is female."
The former Democratic candidate was seen in a welcome video Monday addressing women's issues and her vision for the future of women's rights at the third MAKERS Conference, an annual summit for women leaders.
"Just look at the amazing energy we saw last month, as women organized a march that galvanized millions of people all over our country, and across the world," Clinton continued. "So please, set an example for every woman and girl out there, who's worried about what the future holds and wonders whether our rights, opportunities and values will endure. And remember, you are the heroes and history-makers, the glass-ceiling breakers of the future."
She concluded the video message by encouraging women to never doubt that they are "valuable and powerful and deserving of every chance and opportunity in the world."
In her emotional concession speech after losing to Trump, Clinton made similar remarks to the women who watched across the country. "Never doubt that you are valuable and powerful and deserving of every chance and opportunity in the world to pursue and achieve your own dreams," she said at the time.
The former secretary of state also thanked demonstrators who marched in Washington for women's rights in a tweet published on Jan. 21: "I truly believe we're always Stronger Together."
Clinton's video message is the first of many plans she has for 2017. She is expected to release a book of essays on Sept. 26 that will reflect on her 2016 election loss to Trump, according to a statement from publisher Simon and Schuster. It will be her seventh piece of published work.
© Copyright IBTimes 2023. All rights reserved.