G20 Becomes Venue For China-India Rivalry To Lead Global South, Japan Backs 'Indispensable Partner'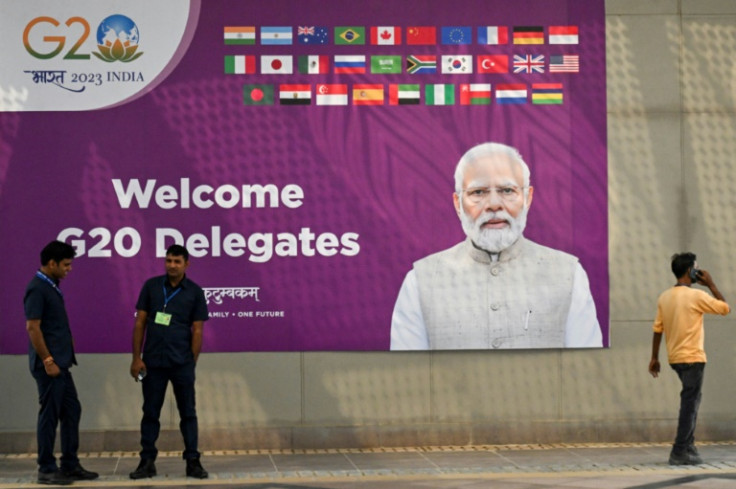 KEY POINTS
It is in Japan's interest that India leads the Global South, not China, an analyst said
Japanese Prime Minister Kishida has referred to India as an indispensable partner in pushing the FOIP
Japan's G7 lead and India's G20 chairmanship has been dubbed as a "potent team"
As the G20 Summit kicks off Saturday in New Delhi without China's leader, Japan appears to be ready to prop up India as the voice of the Global South.
Japan and India have had strong relations for several decades, and such ties are expected to be highlighted at the Group of 20 (G20) Summit, where New Delhi looks to showcase its capabilities in leading the Global South.
"Japan sees a rivalry over the leadership of the 'Global South' between India and China, and it is in the interest of Japan and the G7 that India plays a leading role in the 'Global South', not China," said Hiroyuki Akita, a Tokyo-based strategic affairs commentator at Nikkei.
The Global South, a broad term that Council for Strategic and Defense Research's Happymon Jacob describes as "a geographical, geopolitical, historical and developmental concept, all at the same time," was traditionally used as an alternative to terms such as developing countries, low-income economies or underdeveloped nations.
Akita noted that Japan, as the chairman of this year's Group of 7 (G7) gatherings, has been prioritizing a collaboration with India "as a bridge to narrow the divide on many issues" related to the G7, G11 and G20, while it tries to avoid China and Russia, which Tokyo deems as "trying to counter the G7 world order."
During Japanese Prime Minister Fumio Kishida's visit to India in March, he said the Free and Open Indo-Pacific (FOIP) initiative was to be accomplished "with India as an indispensable partner." The FOIP was proposed by the late Prime Minister Shinzo Abe, who is known for his "special relationship" with India and Narendra Modi.
India has re-directed the focus of the G20 this year to the Global South through its chairmanship of the group's 2023 meetings, wrote Jagganath P. Panda, editor for research and policy organization the Institute for Security and Development Policy.
While Japan appears to still have a "cautious, conditional" approach toward helping engage the Global South, Tokyo does view the area as an "important avenue to strengthen economic security" and this mindset could bolster its interest in pushing India to become the Global South's "voice," Panda wrote.
Lowy Institute experts previously pointed out that Japan's G7 leadership and India's G20 chairmanship could make for a "potent team," considering how the two countries can utilize their positions to explore possible means of tackling pressing challenges in the region, while also renewing attention to the Global South.
East Asia Forum analysts said the India-Japan alliance can even have an impact on the greater central Asian region, as the region seeks alternatives to Russia and China. Providing economic alternatives for central Asian countries can counter China's growing influence in the region while Russia remains preoccupied with the war, they said.
Meanwhile, Chinese President Xi Jinping's absence in the conference is deemed as a missed opportunity, especially as Indian Prime Minister Modi is expected to take advantage of Xi's absence and establish India as the leading economy among developing nations in the region.
Washington, on the other hand, is expected to lean further toward India. U.S. President Joe Biden, who will attend this year's summit, "will want to support" Modi as a way of cementing Washington's commitment "as a partner to emerging markets."
© Copyright IBTimes 2023. All rights reserved.