'Game Of Thrones' Quotes: 10 Best Tyrion Lannister Lines Before The Season 5 Premiere [VIDEO]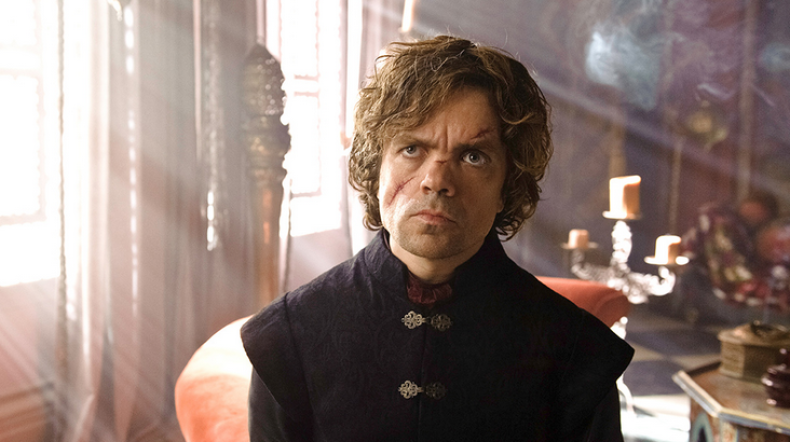 With all the murder and betrayal on "Game of Thrones," the HBO series can be a pretty depressing affair. Not even a wedding can go off without someone getting killed! Thankfully, the show has always had Tyrion Lannister (Peter Dinklage) to provide some levity – not to mention the occasional wisdom – to keep everything balanced. The fan favorite character has always been the recipient of the show's best lines and with Season 5 set to premiere on Sunday, fans can look forward to more.
Here is a list of the 10 best quotes from Tyrion – as least the ones that are safe to print here – from the first four seasons of "Game of Thrones":
1. [To Jon Snow] "Never forget what you are, the rest of the world will not. Wear it like armor and it can never be used to hurt you." – Season 1, episode 1 ("Winter is Coming")
2. [To the soldiers at Blackwater] "Don't fight for a king. Don't fight for his kingdoms. Don't fight for honor. Don't fight for glory. Don't fight for riches, because you won't get any. This is your city Stannis means to sack. That's your gate he's ramming. If he gets in it will be your house that burns, your gold he steals, your women he rapes. Those are brave men knocking at our door. Let's go kill them!" – Season 2, episode 9 ("Blackwater")
3. [At his trial] "I wish I was the monster you think I am! I wish I had enough poison for the whole pack of you! I would gladly give my life to watch you all swallow it!" – Season 4, episode 6 ("Of Gods and Men")
4. [To Cersei] "I will hurt you for this. A day will come when you think you're safe and happy, and your joy will turn to ashes in your mouth. Then you will know the debt is paid." – Season 2, episode 8 ("The Prince of Winterfell")
5. [To Cersei] "You love your children. It's your one redeeming quality - that and your cheekbones." – Season 2, episode 1 ("The North Remembers")
6. "It's not easy being drunk all the time. If it were easy, everyone would do it." – Season 3, episode 10 ("Mhysa")
7. [To Bronn] "Though I would treasure your friendship, I'm mainly interested in your facility with murder. And if the day ever comes when you're tempted to sell me out, remember this: whatever their price, I'll beat it. I like living." – Season 1, episode 8 ("The Pointy End"_
8. [Of Joffrey] "It's hard to put a leash on a dog once you've put a crown on its head." – Season 2, episode 7 ("A Man Without Honor")
9. "A mind needs books like a sword needs a whetstone." – Season 1, episode 2 ("The Kingsroad")
10. [After slapping Joffrey] "And now I've struck a king! Did my hand fall from my wrist?" – Season 2, episode 6 ("The Old Gods and the New")
Source: IMDb
Watch the Season 5 trailer below:
What is your favorite Tyrion quote? Tweet your thoughts to @Ja9GarofaloTV.
© Copyright IBTimes 2022. All rights reserved.