'Game Of Thrones' Season 5 Spoilers: Mark Gatiss To Return; Will Tycho Nestoris Work Alongside Jon Snow At The Wall?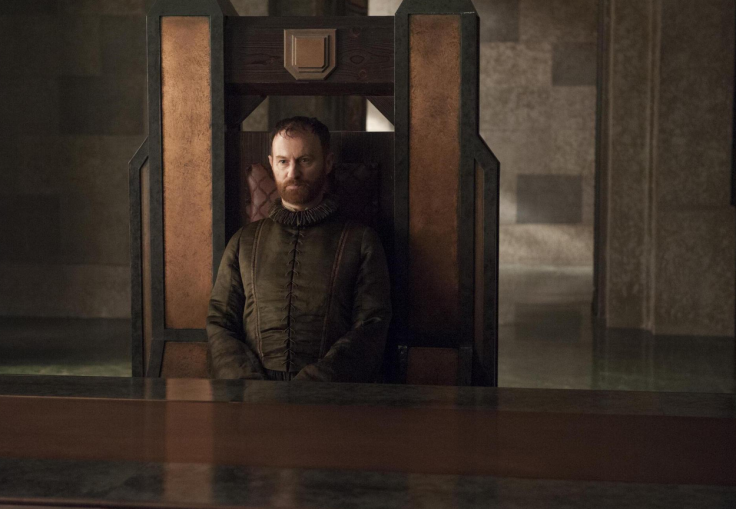 A new face from "Game of Thrones" Season 4 will be returning for Season 5 in a bigger role, according to Entertainment Weekly. Mark Gatiss, the actor who played Tycho Nestoris, the man in charge of the "Iron Bank of Braavos" in the Season 4 episode "The Laws of Gods and Men," will be back in the fifth installment of the hit HBO series.
While a new face to "Game of Thrones," Gatiss may be a well-known commodity to many "Thrones" fans already. Gatiss is the co-creator, writer and producer of the BBC series "Sherlock," which cleaned up at the Emmy Awards on Monday, winning Outstanding Actor in a Miniseries (Benedict Cumberbatch), Outstanding Supporting Actor in a Miniseries (Martin Freeman) and Outstanding Writing for a Miniseries, Movie or Dramatic Special. Gatiss also acts in "Sherlock," playing the titular character's brother, Mycroft Holmes, and has appeared in "Dr. Who."
The character of Tycho Nestoris will play a much bigger part in the next season's story if the books are any indication. In the Season 4 episode, Nestoris and the Iron Bank agreed to fund Stannis Baratheon's army in their attempt to take the Iron Throne from the Lannisters, who have fallen into debt with the gold Cersei borrowed from the bank. In the "Game of Thrones" book series (Spoiler Alert!), Nestoris travels to the Wall (where Stannis now resides with Jon Snow) and negotiates the bank's payment to the would-be king, as well as brokering a deal with Jon Snow to help fund much needed supplies for the Wall.
Producers were unclear at first if Gatiss would reprise the role, which originally was slotted as a guest spot. However, Gatiss's return is confirmed and he is due in Croatia as production for Season 5 of "Game of Thrones" gets underway. Fans can look forward to seeing more of the actor when the new episodes premiere in April 2015.
Are you excited to see Gatiss returning to "Game of Thrones?" Tweet your thoughts to @Ja9GarofaloTV.
© Copyright IBTimes 2023. All rights reserved.