'Game Of Thrones' Season 5 Spoilers: Photos Reveal Arya Stark's New Look; Tomboy Character Gets Feminine Makeover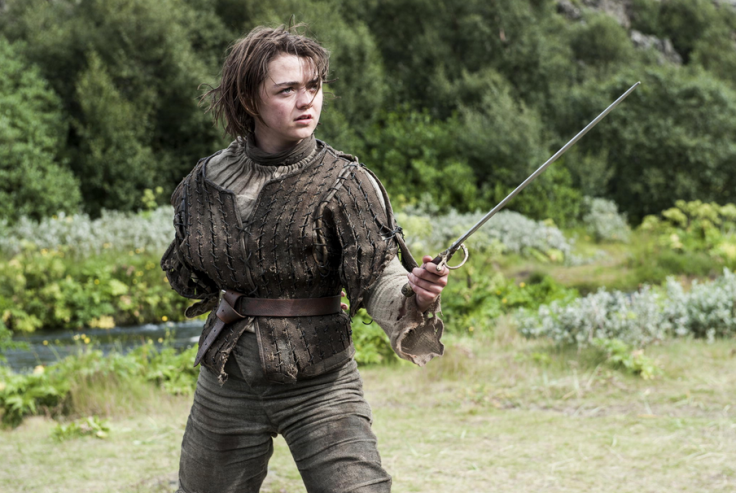 When the first trailer for Season 5 of HBO's "Game of Thrones" debuted, fans were shocked to see Tyrion Lannister (Peter Dinklage) sporting a beard. However, it's the new look of another character that may turn even more heads – Arya Stark (Maisie Williams). Entertainment Weekly just exclusively debuted photos of the Stark daughter's new appearance and the character is barely recognizable.
From the Season 1 premiere, Arya was always a bit of a tomboy; a stark (no pun intended) contrast from her ladylike older sister, Sansa (Sophie Turner). Through four seasons of the show, Arya has looked the part as well, needing to stay in disguise as a peasant boy after her father's execution in Season 1. It looks like that is all over! The new photos prove the character will get a major makeover for her new life in Braavos, complete with a dress, netted shawl and a twisted braid in her hair. Even more shocking -- her trusty sword, Needle, is nowhere to be found!
See the Season 5 photos below:
If fans are thrown by the new-look Arya when Season 5 premieres, they won't be the only ones. Apparently, even the show's crew had trouble identifying the actress.
"[The new look is] very neutral, very plain, but clean! I have clean hair that actually moves," Williams, 17, told EW. "I came onto the set and nobody recognized me."
New locations, new looks, new characters – fans had better be ready for a lot of change when the show comes back. "Game of Thrones" returns to HBO for its fifth season on April 12.
Watch the Season 5 trailer below:
What do you think of Arya's new look? Tweet your thoughts to @Ja9GarofaloTV.
© Copyright IBTimes 2023. All rights reserved.