'Game Of Thrones' Season 5 Spoilers: The Sand Snakes Make Their Debut; Keisha Castle-Hughes Discusses Oberyn's Death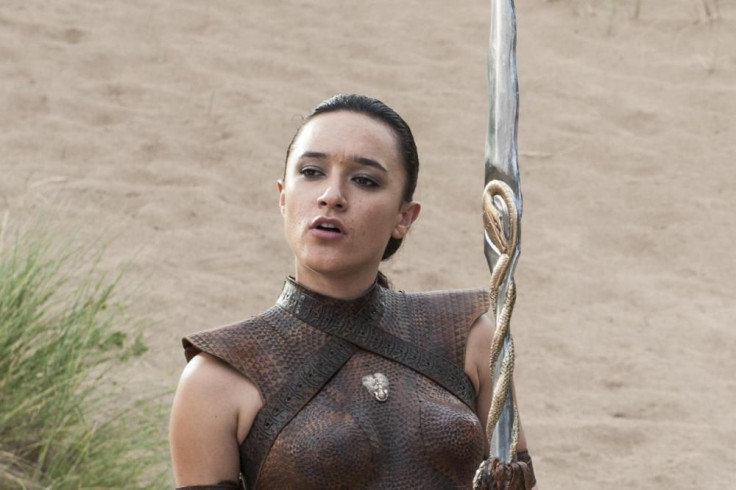 Well, it took four episodes, but the Sand Snakes are finally here! Episode 4 of "Game of Thrones" Season 5 gave fans the long awaited debut of three highly anticipated characters -- Obara (Keisha Castle-Hughes), Tyene (Rosabell Laurenti Sellers) and Nym (Jessica Henwick) Sand. The illegitimate daughters of the late Oberyn Martell (Pedro Pascal) did not waste any time in making a memorable impression on viewers.
While the Sand Snakes did not have loads of screen time in the episode, they made the most of their introduction scenes. Oberyn's daughters are none too pleased about their father's premature demise and are plotting revenge. Tyene and her mother, Oberyn's former mistress Ellaria Sand (Indira Varma), want Myrcella Baratheon (Nell Tiger Free) to pay for her family's crimes. But Obara and Nym are content to hunt down Jaime Lannister (Nikolaj Coster-Waldau). In the most shocking scene of the episode, Obara tortures the ship captain who smuggled the King's Guard captain into Dorne, whipping the man's bucket and scorpion covered head as he sits helplessly buried up to his neck in the sand.
Now that her character has made her debut, Castle-Hughes is speaking out about playing the eldest Sand Snake. In an interview with Access Hollywood, the actress talked about landing the role in the same week HBO aired the Season 4 episode in which her fictional father was killed.
"I was watching it -- that episode -- and because I'd been in this audition process for … maybe five weeks, and so I'd invested a lot of my energy and heart into it, and into understanding who this character was, and so watching that episode and knowing that I was about to play his eldest daughter, I had like a very emotional response," Castle-Hughes said. "And my roommate at the time was like, 'Dude! Like I know that you like "Game of Thrones," but why are you so upset?' And of course, you're immediately sworn to secrecy so I couldn't tell anyone that I'd been cast. I couldn't even really tell anyone I was auditioning for it, and I was like, 'I don't know. I just really love the show.' She was like, 'I'm concerned about how much you love the show!' "
It does not seem like Castle-Hughes has had many problems getting into character. That should serve her well as the Sand Snakes' quest for revenge continues in future episodes.
"Game of Thrones" airs Sundays on HBO at 9 p.m. EDT.
© Copyright IBTimes 2023. All rights reserved.