'Game Of Thrones' Season 6 Production Update: Pictures Of Maisie Williams Doing A Swimming Scene Leaked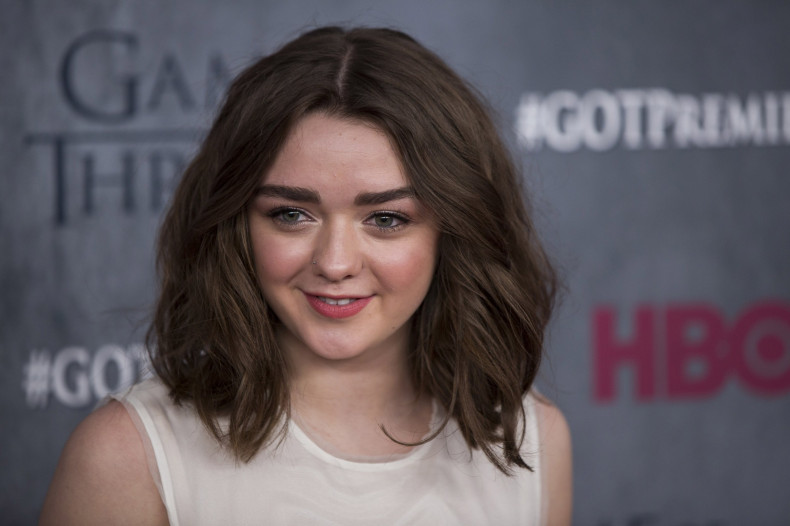 Pictures of Maisie Williams filming a scene for "Game of Thrones" Season 6 have leaked online. The pictures show the actress getting into the water at Carnlough harbor in Northern Ireland, with some of the crew members standing by to help her.
According to a report by BelfastLive, Williams (Arya Stark) is currently filming her scenes at the Carnlough harbor in Northern Ireland. The pictures posted in the report show the actress filming a scene in the water, with the production crew watching. A scuba diver can be seen standing by to help, as the actress goes into the water.
Another girl wearing the same costume as Williams is said to have been spotted on the set. The report speculates this to be a body double for the actress. Some of the fans also gathered around the filming location to watch the actress film her scenes.
A report by Belfast Telegraph confirms that the production crew of "Game of Thrones" Season 6 is currently in Glenarm, on the Antrim coast road. While filming continues in Northern Ireland, the production crew is making preparations to shoot scenes in Spain.
According to a report by Watchers On The Wall, the city of Girona has now released a map detailing the restricted sections in the city, where filming will take place for the popular TV series.
The report notes that the city may be used to depict Oldtown and Braavos on the show. Filming at this location is expected to begin on Aug. 24, but the report pointed to previous reports saying that the filming will begin from Sept 3.
"Game of Thrones" Season 6 is expected to premiere sometime in April 2016. Speculation is rife about the next season revolves around the fate of Jon Snow, played by Kit Harington. Some of the other popular actors on the show include Emilia Clarke as Daenerys Targaryen, Peter Dinklage as Tyrion Lannister, Sophie Turner as Sansa Stark, Lena Headey as Cersei Lannister, Conleth Hill as Lord Varys and Aidan Gillen as Petyr Baelish.
© Copyright IBTimes 2022. All rights reserved.