'Game Of Thrones' Season 6 Spoilers: New Photos Reveal Blind Arya In Action, Daenerys' Fate With The Dothraki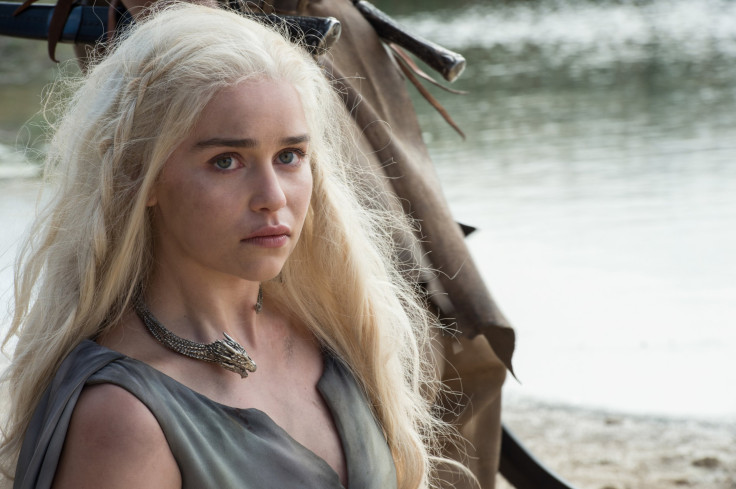 Ever since last June, "Game of Thrones" fans have been waiting to see the next chapter of the hit HBO series. Season 6 will premiere in just under a month and new photos are giving viewers a sneak peek of what they can expect to see, including what's in store for Arya (Maisie Williams) and Daenerys (Emilia Clarke).
Entertainment Weekly released a series of photos Friday showing some tough times ahead for both Arya and "The Breaker of Chains." When Arya took it upon herself to steal a life from the Many-Faced God by killing Ser Meryn Trant (Ian Beattie), she failed her test of being "no one." Because of her actions, Arya was punished by having her sight taken in the Season 5 finale. The new photo shows a blind Arya, who appears to either have been in a fight or is actively trying to fight someone off.
Daenerys successfully escaped an assassination attempt on her thanks to her dragon Drogon, who basically picked her up and flew her out of harm's way in Season 5. However, in last season's finale Drogon was wounded in the process and was too hurt to fly her back to Mereen. While walking around, Daenerys was surrounded by the Dothraki.
The new picture of Daenerys shows her tied up and a prisoner to the Dothraki. Although she used to be their queen, it appears that this means nothing to them. While Daenerys is a long way from home, it will be up to Daarion Naharis (Michiel Huisman) and Jorah Mormont (Iain Glen) to find her.
Another set photo shows Bran (Isaac Hempstead Wright) with the Three-Eyed Raven (Max von Sydow). Tyrion Lannister (Peter Dinklage) and Varys (Conleth Hill) are also featured on the streets of Mereen as they rule for Daenerys while she's gone. You can see the photos here.
There's also a new image with a behind-the-scenes look at Nikolaj Coster-Waldau dressed up as Jaime Lannister. Camera crews are additionally shown shooting Sophie Turner and Alfie Allen as their characters Sansa and Theon walk through the snows of the North.
No new photos of Jon Snow (Kit Harington) were released with the sneak peeks. The fate of the beloved character remains up in the air after he was stabbed by his "brothers" in the Night's Watch. Many believe he's still alive, while those that are a part of the show remain committed to saying the character is dead. Harington recently told Time Out London he would be back for Season 6, but as a corpse. Could this be the truth? We won't know until the show returns in April.
Watch the trailer for "Game of Thrones" Season 6 below:
"Game of Thrones" Season 6 premieres on Sunday, April 24, on HBO at 9 p.m. EDT.
© Copyright IBTimes 2023. All rights reserved.
FOLLOW MORE IBT NEWS ON THE BELOW CHANNELS