'Game Of Thrones' Season 7 Theories: Is This How Cersei Lannister Dies?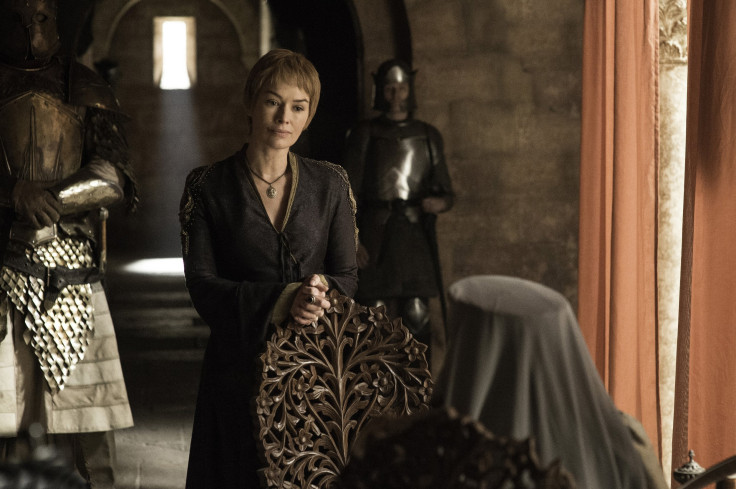 Cersei Lannister's reign over the Seven Kingdoms may be coming to an end in Season 7 of "Game of Thrones." A theory linked to the HBO original series suggests she'll be killed and fans won't believe who the supposed perpetrator is.
The prophecy stems from the opening scene of Season 5 in which Maggy the Frog (Jodhi May) predicts young Cersei's (Lena Headey) future. The show version pinpointed her relationship with Jaime Lannister (Nikolaj Coster-Waldau), her marriage to Robert Baratheon (Mark Addy), the number of children she and Robert would separately have and that she'd lose her seat on the throne to someone "younger, more beautiful."
"You will never wed the Prince, you will wed the King...You'll be the Queen, for a time. Then comes another — younger, more beautiful to cast you down and take all you hold dear," Maggy the Frog said in the "Game of Thrones" flashback.
An excerpt from the George R.R. Martin novels on which "Game of Thrones" is based brings another, more sinister addition to Maggy's prediction. "And when your tears have drowned you, the valonqar [little brother in High Valyrian] shall wrap his hands about your pale white throat and choke the life from you," the novel suggests. Reddit users have unearthed this excerpt and they've got some theories about what it all means heading into Season 7 of "Game of Thrones."
One user, posting under the online persona BertMacGyver, believes the quote means that Cersei will be killed by the Hound (Rory McCann). The Redditor speculates that there will be a trial by combat between he and his older brother The Mountain (Hafþór Júlíus Björnsson), in Cersei's name. The Hound will emerge the winner of the Cleganebowl, leaving his brother — an extension of Cersei — dead.
"I'm convinced that there will be a trial by combat to determine if Cersei will be put to death and it will be a fight between the Cleganes and the Hound will win," the post read. "Meaning that the prophecy that Cersei will be killed by the 'little brother' will come true."
The "little brother" in Maggy's vision may also be Jaime. In fact, there's another popular "Game of Thrones" theory that her slightly younger twin brother/lover will turn on her in Season 7 and be the one to end her. Coster-Waldau was asked about this idea during an interview with Daily Beast and declined to give anything away, though he did entertain the idea.
"That's a great theory," he said with a smile.
While both the Maggy the Frog theory and the theory that Jaime will take down his sister/lover suggest that Cersei will die in Season 7 of "Game of Thrones," some thronies aren't convinced. According to Oddsmakers, Jon Snow (Kit Harington), Daenerys Targaryen (Emilia Clarke), Bran (Isaac Hempstead Wright) and Cersei are in the clear. Theon Greyjoy (Alfie Allen), Ser Davos (Liam Cunningham), Melisandre (Carice von Houten) and/or Jorah Mormont (Iain Glen) are, however, in danger.
Only time will tell which "Game of Thrones" characters are killed. Tune in to the show when it returns to HBO July 16.
© Copyright IBTimes 2022. All rights reserved.
FOLLOW MORE IBT NEWS ON THE BELOW CHANNELS