'Game Of Thrones' Spoilers: 8 Shocking Deaths We Are Still Getting Over Before The Season 5 Premiere [VIDEO]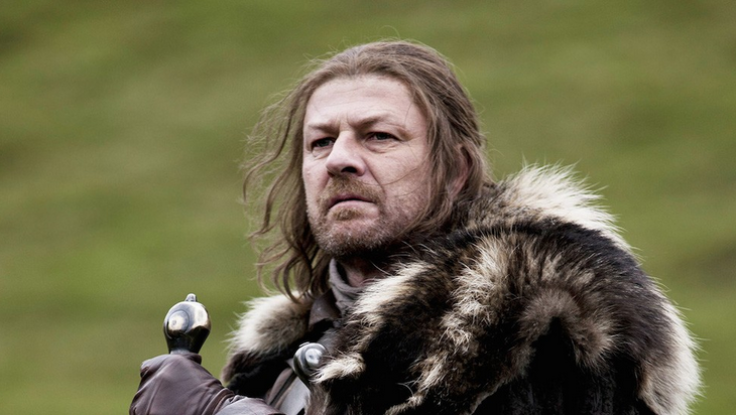 "Game of Thrones" returns to HBO Sunday for Season 5 and with it comes the fear that a fan favorite character might soon meet their end. Shocking deaths have become a trademark of the series and with the show catching up to the books there is no way to know who might be next! The trauma of a few of the more notable losses is still fresh for many viewers after four seasons of murder and mayhem.
Here are the eight biggest deaths from "Game of Thrones" we are still getting over:
1. Ned Stark
Though there have been more surprising and more painful losses in the first four seasons of "Game of Thrones" – see the next entry – it all comes back to Ned Stark (Sean Bean). The execution of one of the show's few good guys by one of the show's worst bad guys -- King Joffrey (Jack Gleeson) -- was painful to watch and set the tone for the show. After Ned lost his head, it was clear that nobody was safe.
2. Catelyn Stark
At the risk of this becoming simply a list of Stark family members, Catelyn Stark (Michelle Fairley) comes in second. Ned's wife met her end at the infamous Red Wedding in Season 3 and – though the gruesome event also saw Robb (Richard Madden) and Talisa (Oona Chaplin) Stark murdered – her desperate pleading for her son's life made her death the toughest to watch.
4. King Joffrey Baratheon
Fans are still getting over this one in that they are likely still gleefully reminiscing about the shocking exit of the show's main villain. Many had been hoping that the sadistic king would get what he deserved, but the timing – another wedding – was still surprising. Despite everything Joffrey had done to hurt others, watching him suffocate was still a disturbing experience to witness.
5. Mycah and Lady
Before Ned lost his head, the title of the most shocking death belonged to a dire wolf! After Arya's (Maisie Williams) dire wolf, Nymeria, attacked Joffrey in the woods, King Robert (Mark Addy) ordered Sansa's (Sophie Turner) dire wolf, Lady, to be killed – Nymeria had already run away. Distraught viewers had to watch Ned Stark carry out the unfair sentence. Meanwhile, the Hound (Rory McCann) ruthlessly murdered Mycah (Rhodri Hosking), a butcher's boy who Joffrey had been taunting when the incident occurred. This was the moment Arya vowed to get vengeance on Joffrey and everyone watching at home realized just how awful the future king would become.
6. Ygritte
Of all the carnage during the Battle of Castle Black in Season 4, no loss stung more than Ygritte (Rose Leslie). Even though she fought for the enemy, her romantic relationship with Jon Snow (Kit Harrington) had won her fans' sympathy. It sure looked like she was about to let Jon live when an arrow shot her down in the middle of the battle. Instead, a heartbroken television audience had to watch her die in Jon's arms. They really should have stayed in that cave!
Watch the scene below:
7. Tywin Lannister
In one of the last moments of Season 4, Tyrion – having just murdered his double-crossing prostitute wife Shae (Sibel Kekilli) – confronted his father (Charles Dance) while the senior Lannister was sitting on his chamber pot. Tywin had never treated Tyrion fairly and had gone as far as to try and have him killed. He may have deserved an arrow to the heart, but it was hard to believe his son would have ever been the one to pull the trigger.
Watch the scene below:
8. Renly Baratheon
Renly Baratheon (Gethin Anthony) – who until his death was in the process of making a claim on the Iron Throne – was never that central of a character. However, when someone is assassinated by a mysterious black smoke figure, it tends to be pretty memorable. Whatever Stannis (Stephen Dillane) and Melisandre (Carice Van Houten) summoned to murder Renley has not been fully explained, but it certainly counts as one of the series' most shocking moments.
Watch the trailer for Season 5 below:
What was the hardest death to get over? Tweet your thoughts to @Ja9GarofaloTV.
© Copyright IBTimes 2022. All rights reserved.
FOLLOW MORE IBT NEWS ON THE BELOW CHANNELS